TGIF!!! Woof to all my friends, it has been a busy week here.
Mom is running around doing errands, I am going with her most of the time so her back is sore today from pushing the stroller BOL and of course picking me up and down each time I want to walk. She is moaning a bit but also happy that I am happy and wanting to walk.
We have spent time in the park also which was fun and last Sunday we spent time there with my favorite Aunt and her two rescued dogs, Thomas and Coco so we called it a rescue meet up with of course lots of treats yumm and the sun was shining so it was extra special.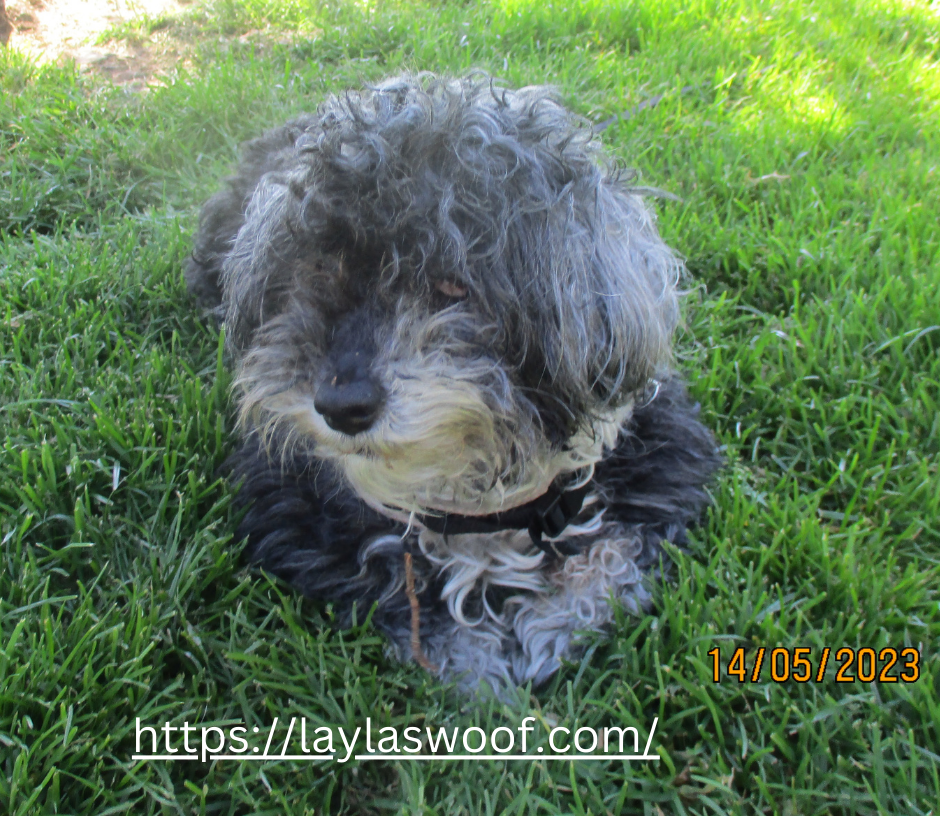 Yesterday I went to the vet grrrr which I do not like but as Mom explained the vet needs to check me to make sure I am healthy.
The verdict: I am a perfect weight, walking beautifully for my age, cannot see but that is not news and the main issue I have at the moment is Sundowners which Mom is learning to control. It starts at about 5 in the evening when I start barking like crazy which drives Mom crazy so she has started giving me a calming supplement which does slowly relax me and then she gives me more before sleep and guess what? I am sleeping through the night so we are all getting good sleep now.
So when we were leaving the vet she said to me : I now pronounce you a healthy senior dog, which made Mom smile and sigh for relief.
As I have done in the past am going to share here again what I am giving Layla to keep her healthy.
Home cooked food: Steamed chicken, ground turkey, blueberries and Mom puts apple cider in the water also which has many benefits like improving digestion, helps stop itchy skin and paws also. It must be working as I have not itched in a long long time. There are many other benefits also but we are talking about the two important ones for us.
Dr Harvey's Raw Vibrance which makes my meals very balanced with all the nutrients I need plus his Kidney Health.
My magic mushrooms as Mom calls them from Real Mushrooms: Lions Mane which helps with my brain function and 5 Defenders which is a mix of 5 mushrooms which help to keep me healthy. Coupon LaylasWoof
https://shop.realmushrooms.com/?ref=488
Vetericyn All In Senior Supplement which supports my bones, healthy energy levels plus has a calming supplement in it which keeps me calm.
For treats in her snuffle ball I give her the freeze dried kibbles/treats from Raw Paws Pet Food which she loves. Coupon Layla. They have for cats and dogs.
https://www.rawpawspetfood.com/Default.asp?sscid=51k3_szat
Another item I am researching now is a calming bed for her to keep her calm and relaxed.
You can find other links on our blog under links and affiliates tab.
https://laylaswoof.com/?page_id=19
I hope by sharing with all of you it will give you an idea of now to keep your dog happy and healthy as they age and you will try these supplements also which are all approved by Layla.
Have a wonderful weekend and as always be safe
With a woof and love from Layla