Happy Wednesday all,
We have recovered from the AiDS Walk and last weekend I decided to just relax and take it easy whatever easy is LOL. On Saturday I did volunteer like I always do but then the rest of the weekend was just Layla and Me, walking, and relaxing in the park. The weather was perfect for it and hopefully next weekend will be too.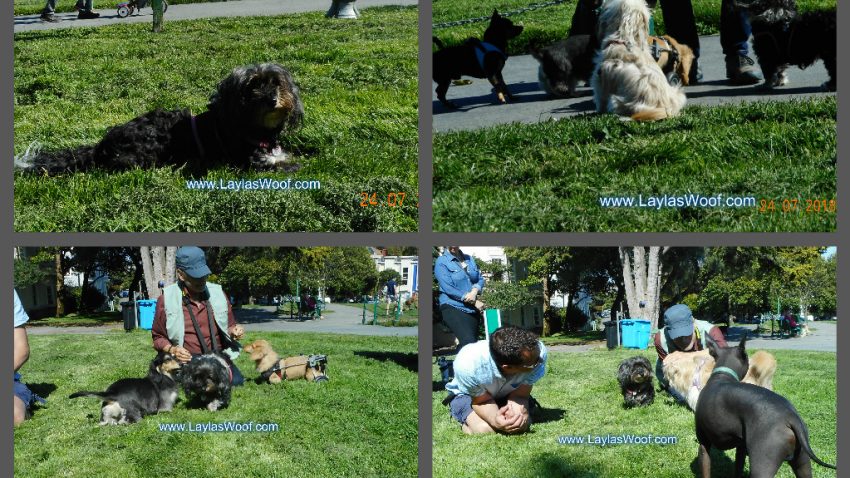 And of course Madam has to do this :
I am at the moment re-evaluating Layla's food as I feel with her getting older am questioning her supplements etc plus with what I have been reading online lately with the no grain, yes grain, etc which is mind boggling and confusing I think the time has come to do it. Plus I already cook half of her food and make some of her treats so why not do the whole lot at home. (I use Grandma Lucy's Macanna Premix for the extra supplements plus add others)
So with the research I am starting to go to the different pet stores in the city to see what they have, what is interesting and get more ideas.
On Monday we went to visit a store called SFRAW. It was an adventure for both of us as it took 2 bussess each way to get there and by the time I found the place we were hot and tired. Layla of course was in her backpack and I made the mistake of forgetting her cooling vest at home. Bad Mom.
What is SFRAW – They are the largest resource in California for people who feed their pets raw food. It is a great store with loads of products of all kinds, some were incredibly interesting like the frozen chicken necks which you can feed your dog, I am petrified to do that as the bones are small and have always heard that they are not good for your dog although I do have friends that feed them to the dogs and if they sell them then I do know it is perfectly safe.
They support local family farms that practice humane, organic, sustainable and pastured farming methods. So everything is really healthy.
They do not ship their products but their treats which they had which were slices of goats cheese, turkey hearts and beef hearts. Layla got to come home with the turkey hearts which she loves.
Their website :
I have started making Layla a new treat which she loves, and what I love about giving them to her is when we are on the go they can also be a type of food which is better in the long run.
The recipe is simple :
One pound of ground turkey or ground chicken or salmon which I chop up (I do not use ground beef as it can be fatty sometimes)
One Egg
Grated veggies like carrots, zucchini, broccoli and whatever else you want to add
Mix all together, lie flat on a baking sheet so it is about one inch thick, Bake in oven on 350 Deg till ready. (I leave it softish)
When cool I cut into squares and store in a ziplock bag in the fridge and take out as I need.
Bon Appetit !
So as you can see there is never a dull moment in our lives and as a good Jewish Mom one of my main focuses is keeping her happy and healthy as possible.
Madam is at this moment doing what she does best, sleeping and I am off here to carry on with my research and will keep you all posted in the next blogs with recipes. I am always open to suggestions so bring them on 🙂
Have a wonderful week all.
With love as always
Layla