The weekend has arrived, Thanksgiving and Hanukkah around the corner plus with no rain in the forecast we are trying to get adventures in before the rain arrives.
So last week we went to the Embarcadero to look at the Bay, breathe some sea air and just be outdoors. It was chilly but sunny and a perfect day to be outdoors.
Madam was happy running around, watching the seagulls and Pidgeon's and of course eating some treats because how could I let her starve. I had taken a coffee with me and it was just perfect, relaxing and just what the Doctor ordered.
As we all know, Thanksgiving is around the corner, shops are full, everyone stocking up with food, sales are starting and the city is slowly going crazy. I have no plans for Thanksgiving this year, lying low which I love to do and just relax. I will make Madam some turkey for definite with veggies, so she does not feel left out.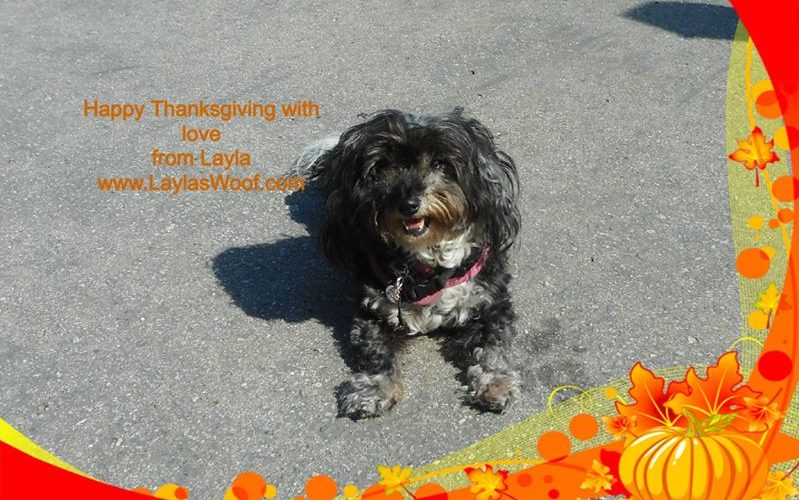 Thanksgiving pet safety :
Keep the food on the table 
No pie or other desserts for your dog
Yeast dough can cause problems for pets, including painful gas and potentially dangerous bloating.
Put the trash away so your dogs cannot find it
Be careful with decorative plants.
Quick action can save lives.
So on this note Layla and I want to thank everyone for helping her stay healthy, Dr Harvey's, Vetercyn, Her vet Dr Gervais, Vet Vision Clinic and so many more who have spent the last year with us, BUT Layla would like to say a special thank you to everyone reading our blog, following us on social media.
BUT before we forget please please if you are shopping on Black Friday put on your list food, treats or toys for the pets that are in the shelters so that they can be spoiled also, thank you
Have a fun family Thanksgiving with lots of laughter,
With love from Layla