Wednesday has arrived which means my weekly woof. It has been a quiet fun week in many ways with lots of Mom time.
First of all because of the smoke and weather I had a bad allergy attack and poor Mom was so worried. I would go to the park and come home looking red like a tomato so she was wiping me down, doing everything she could think of but the itchy would not go away. What was worrying her was I was hopping with my left back leg in the air and she got concerned that I might hurt my back next. She had not changed my food, nor my treats but a lot of my dog friends are going through the same so we knew it was something from the park. In the end she went to the vet to get some Apoquel ewww which I am taking and it is easing slowly phew. Am now sleeping through the night again and letting Mom sleep too.
The weekend was busy as always as Mom says that is the time to be outdoors as the weather is fantastic for San Francisco so on Saturday we met one of my favorite Uncles in the park and just hung out, chatting, being petted and spoiled while Mom drunk her tea. It was a great couple of hours with Travis my Uncles Dog taking over the blanket so I went to visit our park neighbors and lay on theirs. They were very happy I did it and got lots of love from them.
On Sunday was a special event in our dog park – It was the the 8th Annual Three Legged Dog Picnic! WOW we got there to see so many dogs, both three legged, on wheels and regulars also. There was music going, lots of people and they gave Layla a new toy, she was spoiled.
Tri Pawed Dogs who organizes it does events once or twice a year. Everyone brings their own food and we all hang out together with our pets and families. A really fun time.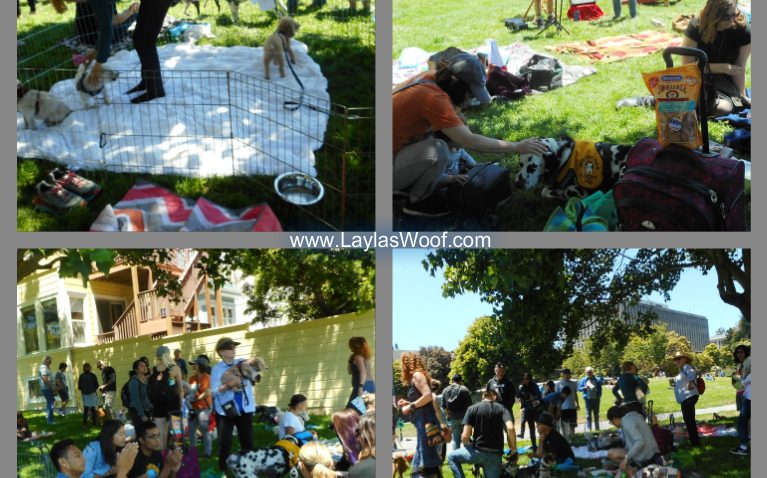 There were different rescues there which was fantastic and always makes the events extra special.
01. Nobody's Perfekt Dogs : They rescue imperfect dogs from local shelters and find them homes with loving families who tolerate the imperfections. What an amazing Rescue Organization and one I did not know about till Sunday.
02. Muttville Senior Dog Rescue : Muttville is an organization focused on how the world thinks and treats older dogs, aged seven years and older, and creating better lives for them through rescue, foster, adoption, and hospice.
03. Family Dog Rescue : Their mission is to save family friendly dogs from High Kill Shelters in California and after screening and vetting, they are then adopted by suitable families.
Oh and we must not forget that we met Michael from DogParks.Tv and he took a photo of me which is on his Instagram so I am now famous woof.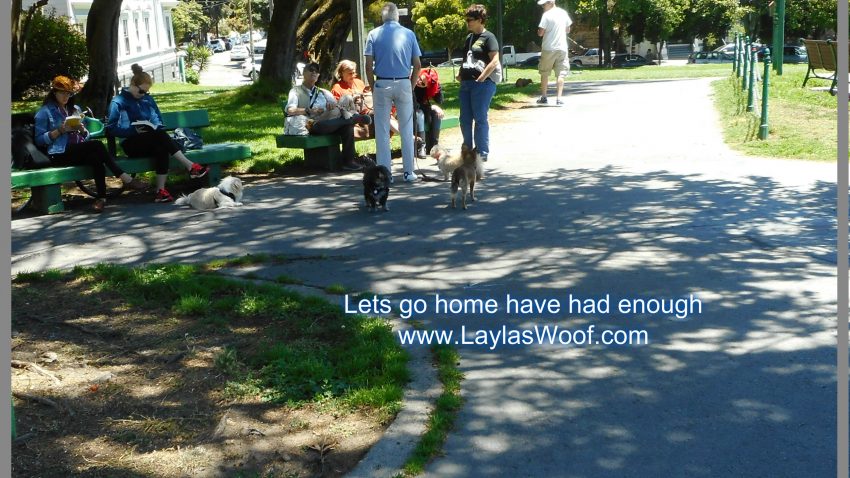 It was a really fun Sunday, when we got home I just went to sleep zzzzzz.
I want to remind everyone that this coming Sunday Layla and I are doing the 6 mile AIDS Walk, as I am saying the two old ladies are doing it LOL and we will have lots of photographs to share next week.
I must remind everyone that the heat is here big time and we all need to keep cool, once again thanks to CoolAid for my awesome cooling vest which is making my life so much more pleasurable when I am out.
Have a wonderful week all,
Woof with love from Layla