Woof it's Wednesday,
And like every Wednesday I woof about my past week, what I have been up to, both good and bad BOL.
We have been very busy here, or should I say my slave, Mom has been very busy and I have been keeping an eye on her making sure everything is done right. That is the job of the Boss and it is tiring so I try to take as many naps as possible.
Last Wednesday night we went to the Pets Are Wonderful Support's 31st Anniversary Celebration: Petchitecture. It was a fancy event at the Fairmont hotel in San Francisco so I had to get all dressed up (I hate that part). All pets were invited and they even had a snack table for us – yummmm.
What is this event. Petichitecture is an evening fundraiser held once a year to celebrate the generosity and compassion that has sustained the human-animal bond for over three decades in San Francisco. PAWS has been the organization that makes sure no person has to choose between the care of themselves or their pet. They serve over 600 clients and 800 companion animals annually.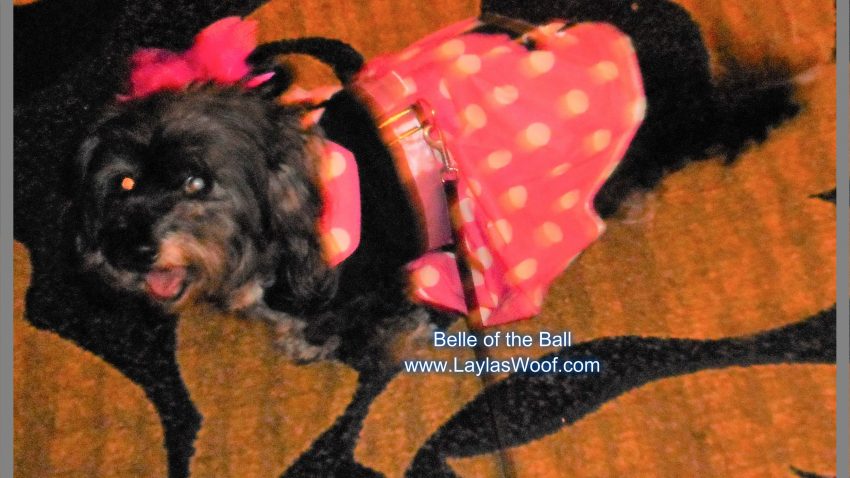 So off we went, me in my fancy new dress, Mom actually dressed up WOW and of course my Aunt Barbara came with us too looking really pretty. There were lots of people, dogs and oy vey even a pig on a leash, can you believe that ? I met a pig ! The downside was Mom's camera was messing around so we did not get many pictures but she is trying to get from the organizers and we will have to share on Instagram.
I have taken Layla to dog events but not an event like this so I decided to take with me her expandable pet carrier for safety so that if she started feeling overwhelmed she had a safe place to relax.
Being the Jewish Mom LOL I made sure she was as comfortable as possible I took one other important item with me the CBD oil from Treatibles. After being at the event for about an hour or so I realized it was getting too much for her so I gave her a couple of drops of the oil, took her dress off and put her in her bag. It was fantastic as she immediately relaxed, settled down and I was also able to sit back and enjoy the company and good food.
CBD oil, I have tried many products to keep her calm, and I have found that CBD oil is the best solution for her, within minutes she is relaxed and normally curls up and goes to sleep with all the chaos around us. I have a bottle in my Earthquake bag also as I know that if we have to run I have something to keep her calm.
Why I love Treatibles, first their service is great, I can ask questions and get replies within 24 hours and I think the major plus for me is that they are in California so I know that it is a safe product. Excluding the oil they also make CBD dog biscuits for different size dogs which makes life really easy when you thinking of quantity for your dog size.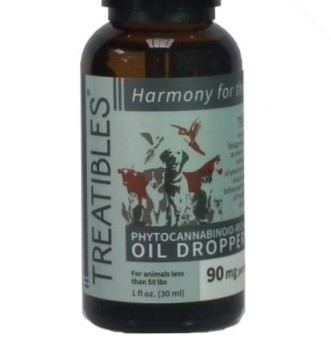 Mommmm ! Don't forget to tell them that Treatibles also helps cats !!! Grrr.
To learn more about them you can find all information on their link below :
When we left the event I actually just carried her and she was one relaxed happy camper.
Treatibles gave me a bottle of oil and the treats for the review.
The other special event we went to this past week was the Welcome Home Party for Phyllo – many of you read how Phyllo was stolen and he is now home safe and sound. His story is just amazing and I plan to sit with his owner and get the full story and blog about it as we can all learn from it and how a community got together to help. They gave all of little goodie bags which was so exciting.
So in between all this we have been busy with our normal routine and Mom says she is really tired BOL. She needs a box like mine and more naps.
On this note, I am now off for my mid morning nap, as this dictating exhausts me, have a wonderful week all and we cannot wait to hear what you have been up to 🙂
Woof with love from
Layla