TGIF !! Rain has stopped, sun is out but it is still cold here.
Many of you do not know but January is the month of freedom for me, it is the month I ran from my ex, and it is the month I rescued Layla so it is her month of freedom also.
So, to celebrate our freedom, and the sun shining today, I took Layla on an adventure to our old haunt or should I say park. It is one I have not been to in ages, and it was wonderful to be there. It was bitter sweet as it was the park I used to go to with Baby who ran with me, and her ashes are buried in the park but it was great also, as it brought back so many good memories and being able to sit in the sun, relax, have a picnic with friends there it was the best medicine.
Lafayette Park is a beautiful big park in the city of San Francisco. It is beautifully kept, the view of the Bay from the top is just amazing, the old trees standing upright are stunning, the green lawns are just beautifully kept and sitting there, listening to the children playing and laughing down the hill in the children's section is magical. There is nothing like listening to kids laugh and play, pure happiness. Thank you Robin and Roger for this wonderful time.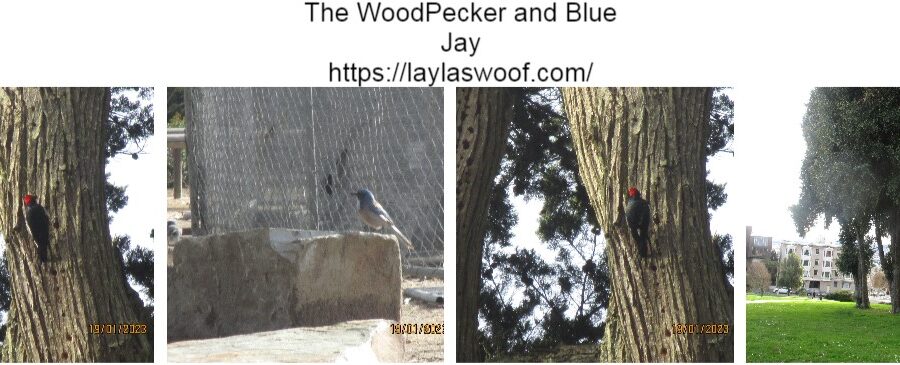 Layla wandered around, I had to watch her so she would not hurt herself, but she had so much fun and came home, finished her dinner, and went to sleep. A healthy sleep as I say as she had so much fresh air today it was the best of the best.
I am hoping the rain has stopped finally for a bit so that we can get out more, visit different parks and get lots of fresh air which is so important for both of us. I also notice that if she is out and about she is hungry and gobbles down her food which makes me happy and relaxed.
So that was our adventure this week, who knows what we will do next week but there is never a dull moment here plus Layla loves riding on the bus so it is exciting for her.
Stay safe and warm everyone, have a wonderful weekend
With love from Layla