TGIF and thank goodness hopefully the fireworks are over.
We have been busy as always and I must admit Layla keeps me on my toes.

Last weekend was Pride weekend. Lots of chaos in San Francisco but I cannot complain as there is loads of fun. On Saturday we went to the Dyke March with some friends. It was great fun, lots of music, costumes and much more. Layla was in her backpack very happy and relaxed watching all the people while I filmed and watched everything. The fun thing was I was with friends and we sat at a restaurant watching.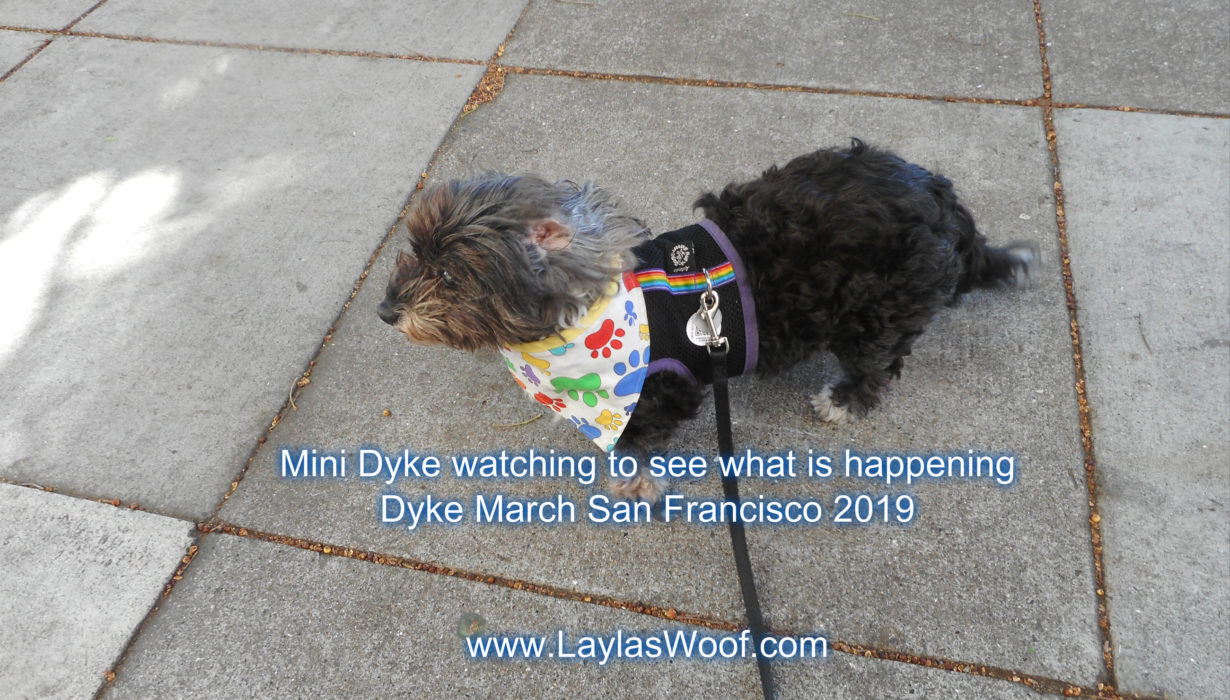 Layla walking home from the March :
https://www.facebook.com/LaylasWoof/videos/434153823834770/
Sunday I relaxed, of course we went to our park but laid low as such as Pride was happening. The park was full and everyone was enjoying the weather.
Monday, Tuesday and Wednesday I was working so Layla relaxed and of course had quality time with me when I was home.

Her new favorite quirk is to go to the grocery store with me so I try do it on a daily basis and she trots the aisles tail wagging and of course sniffing. It is so funny to see her, all she needs is a little shopping basket on her back to carry the groceries LOL.

AND then comes 4th of July, those damn fireworks. I do not care what people say about them, I personally think it is a waste of money that can be used for so many things.

We went yesterday to the park during the day as I wanted her to go out as much as possible before all the booms start so we relaxed in the park on my blanket. I kept her leash on her just in case something spooked her as it would be easier to catch her.

She was wandering around, and then went and sat with some girls who were celebrating, they had with them beads and so much more and of course Madam just let them dress her up all patriotic. It was really funny and cute to see how she just sat there letting them do it and the girls had so much fun.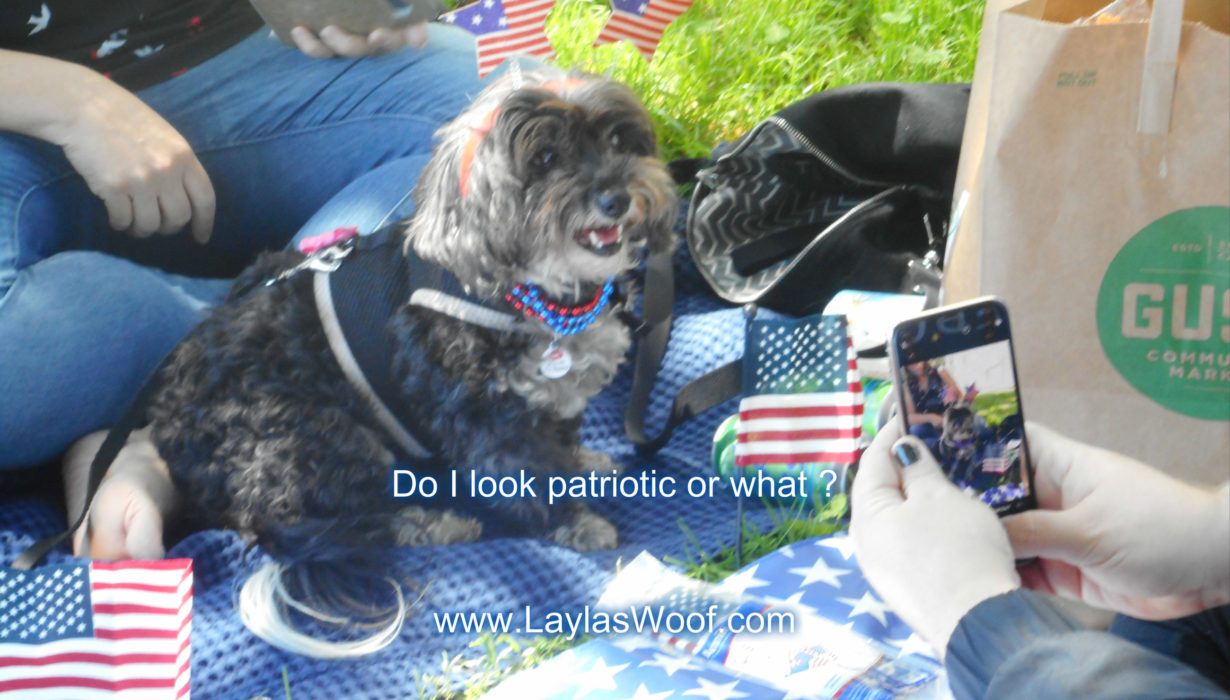 But the minute they popped open a bottle of champagne she got scared so I had to bring her home.

Then the nightmare started with everyone everywhere starting to set off fireworks so she went into her box to hide. I thank goodness have an amazing neighbor who she adores so I called her in the evening to ask her to come over to my place to help me get her out for her last walk. We walked around the block and she was ready to come home.
When we got home I gave her some Hemp Oil to relax her, made sure her bed was ready in the shower, put a t-shirt on her and let her do her thing. She has been there ever since sleeping and relaxed. I have put a bowl of water there also but I know food she will not eat so put her plate of food in the fridge.

So that has been Layla's week, I cannot wait for the fireworks to stop so she can feel safe and get back to being herself.

Our prayers go out to all those pets that did get spooked and ran, we hope they find their homes and will be safe.

Have a wonderful weekend.
With a woof and love from
Layla