Good Morning,
What is happening in the Layla neighborhood ?
It has actually been in a way a slowish one since last week as Mom decided she needed to slow down a bit as she pulled a muscle in her side, so off to the Doctor she went on Friday to have it checked out. Doctor told her it is part of growing old BOL and that she will survive.
On Friday was spoil your dog day so Mom surprised me with two new toys which I love especially when they squeak. That made up for Mom going to the Doctor so I forgave her although made sure she double dosed me with treats.
On Sunday we went on an adventure, and Mom who is getting old, shhhh don't tell her, forgot the battery at home so we did not get many pictures.
It was a fun event called the Noe Valley Animal Fair where there were goats, bunnies, dog and cat rescues of course, but the best was I got to meet LiLou the Therapy Pig from San Francisco Airport, who scared me and that is when the battery just went boom dead. So no pictures. It was a cute event in a small town square, lots of people and booths with different animals and of course lots of kids running around.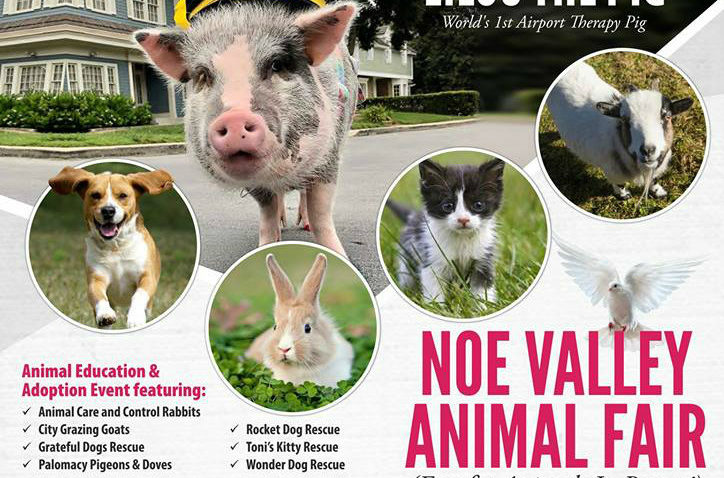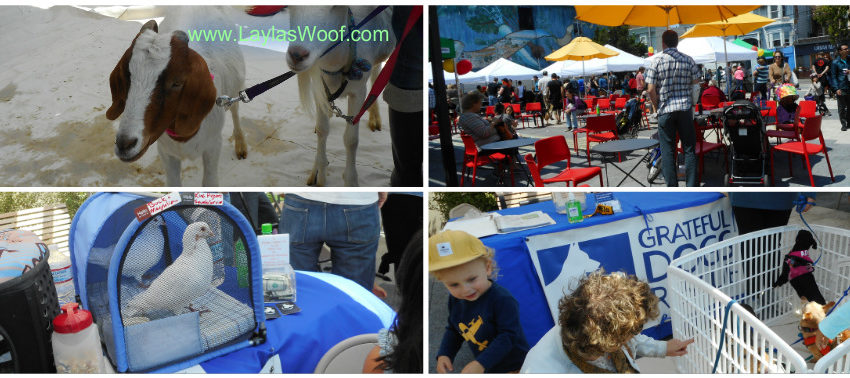 On the way home we stopped off at the park and sat with friends, but my best surprise was my boyfriend Boaz was there so I lay on his tummy and had a shnooze. It was a great fun day and by the time we got home Mom was exhausted.
As on this blog I always share about events in San Francisco, and having lived in Israel most of my life, I decided to share with you an amazing Dog Event that is happening in Tel Aviv on the 24 August. I really wish I was there for it.
It is called : Kelaviv Dog Festival (A very clever play on words as Kelev is Dog in Hebrew and it is being held in Tel Aviv.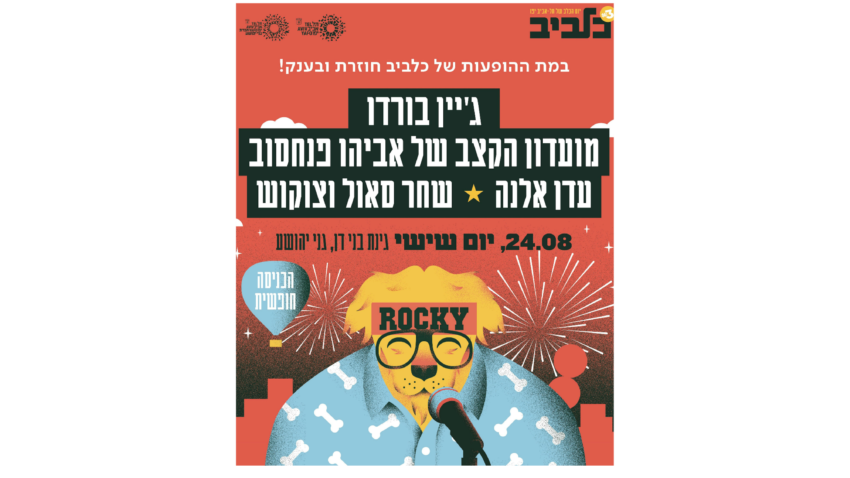 With 1 dog for every 17 residents, Tel Aviv is the city with the highest amount of dogs per capita in the world and this is definitely a reason to celebrate. The friendliest city for dogs is happy to host the third Kelaviv* dog festival; bigger and better than ever before!
Pooches and their humans will be able to experience the first ever Urban Dogs Olympic Games, a dog beauty queen competition, massages for dogs, dog bakeries, counseling and training services, and plenty of pet friendly stalls. In addition, this year we will also have a live music stage with performances by: Jane Bordeaux, Avihu Pinhasov Rhytm Club and more!
Thank you to Margaux Stelman for all the information and poster.
Margaux Stelman | מרגו סטלמן
Head of International Press | ראש תחום תקשורת בינלאומית
Tel Aviv Global & Tourism | מנהלת עיר עולם ותיירות
Mayor's Office, Tel Aviv-Yafo
It sounds like so much fun and I think that we should all start saving to go to the next one next year. Actually LOL it would be awesome if we could organize a tour of all dog events all over the world and take our dogs and travel.
What can I say, I am dreaming of doing something like that but would have to win the lottery LOL.
I will be updating you on Layla's diet next week as I think I am getting to what I want to do, through trial and error will be the wiser.
Have a wonderful week all,
I am now off to do what I do best, siesta
Woof with love from Layla