Woof Helloo my Fur friends and Family,

We had such a fun weekend last weekend, Mom spoiled me and took me on two adventures, yes two can you believe it.

On Saturday we went for the first time to the Shi Tzu Meet Up at a great park called Alta Plaza Park. It is a beautiful big park with a view of the Bay on one side and a view of the city on the other side.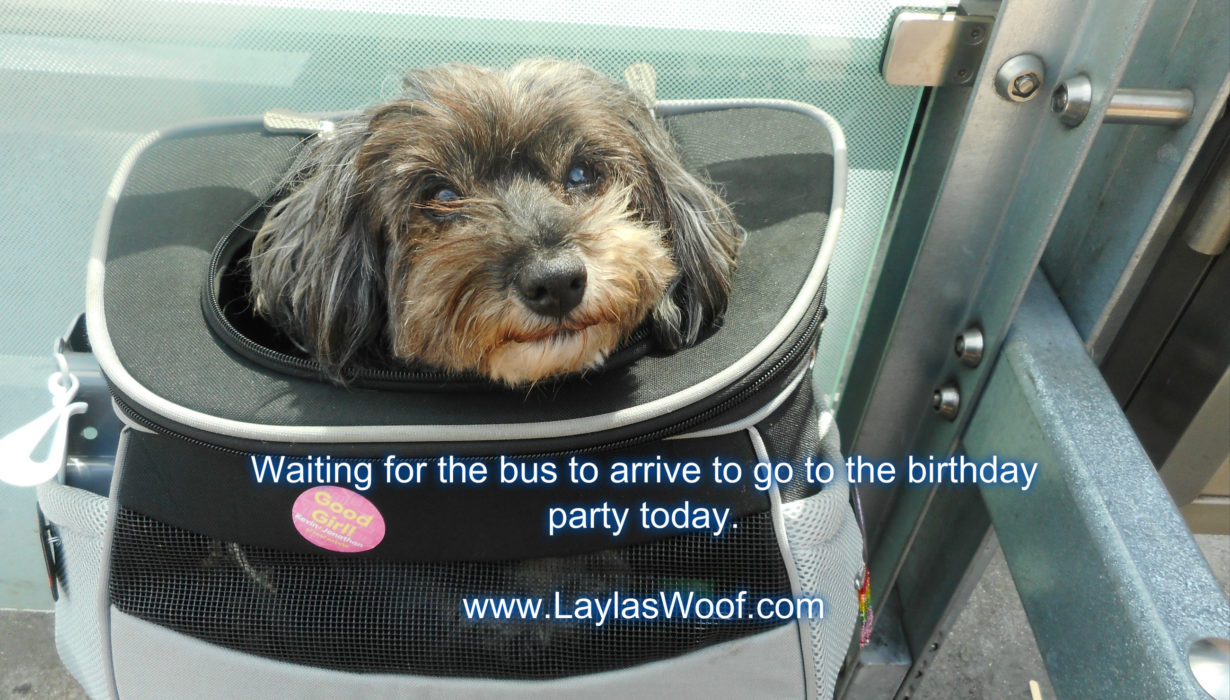 There were about 20 Shi Tzus and their owners and what a surprise as it was Jacques (a Shi Tzu) birthday and his Mom made a delicious cake. I have told Mom I want the same for my next gotcha day. We all wore party hats and had so much fun. I also made new friends which was pawsome, as I love meeting other fluffies like me. The weather was perfect and it was a perfect fun day. 
I cannot wait for the next one.

Of course Mom had the back pack for the bus as she says it is safer for me when the bus is full so no one will stand on me and I won't get hurt.
When we got home guess what I did ? Of course sleep as I was really tired but LOL Mom took a nap too. She says she gets tired from carrying me in the back pack so I woofed her that she is getting old BOL.
On Monday we had another adventure. We went with my favorite Aunt Barbara to Fisherman's Wharf. We went on the tram there and did a long walk along the bay looking out at the sea, Mom and Aunt chatted while I smelled and checked all the pmail. I had to stay on leash most of the time as there were lots of people, skateboarders and Woof I love barking at them BOL. There was a part where there was lawn so I ran over there but Mom left my leash on just in case as we are close to the street. 

Mom and Aunt then sat down for coffee, relax and to look over the bay, she gave me of course water and some treats to snack on so I was really spoiled.  I wandered around and looked out also over the bay as you can see in the photo below.

We then came home in one of the old fashioned trams which was fun but I was really tired so Mom had put me in my back pack to rest.  
When we got home I ate my dinner, dug up the bed, BOL and then settled for an afternoon sleep. 

It was such a fun day and have asked Mom to do this again with me.
Mom is working hard this week and as she told me she has another month of work and then we will be taking a break, but she did promise me if there are any fun events on weekends as summer has arrived she will take me to them.

Many of you must think I am always on the go but actually I do take things slowly also LOL but with summer here, and in San Francisco there is always something doggy going on on weekends, I try to go to them as I feel it is good for me to get out and see what is happening, and good for Layla to be out and about also especially as we live in a tiny studio with no garden, and going to the same park all the time can get boring also.
So as you can see Layla is a spoiled busy girl, but I would not change it for anything and I feel that variety is the spice of life,  and we are going to keep on doing it. 

This weekend I have not checked what is going on yet so will go with the flow plus weather wise see what we will do.

Everyone, TGIF and have a wonderful weekend all, cannot wait to hear what you did this past weekend.
Woof with love Layla