TGIF phew the weekend has arrived.
Tomorrow is a very important date in our calendar, Puppy Mill Awareness Day.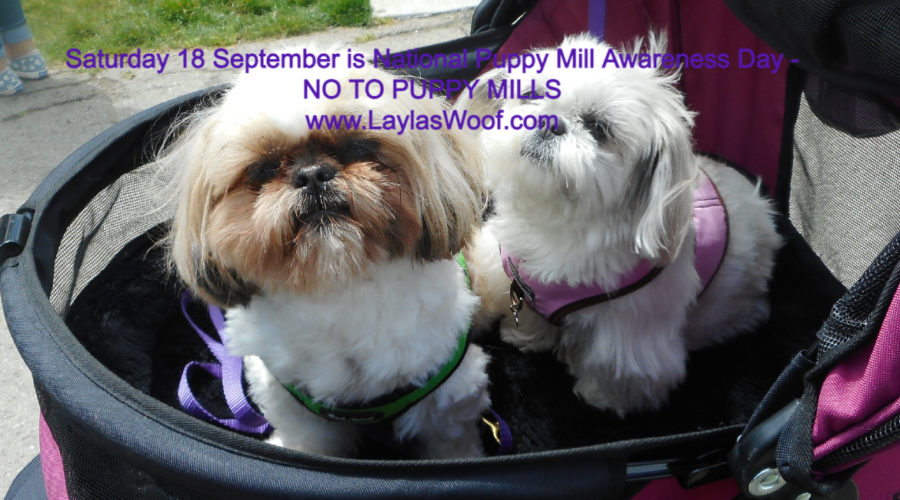 It is held on the third Saturday in September to encourage those looking for a new dog, to adopt, not shop. An observance dedicated to improving the lives of dogs, the day spreads the word about the poor conditions of puppy mills.
We need to educate people so that they will realize where their puppies come from and the life the mothers of the puppies have.
What is a puppy mill?
It is a place where dogs are kept in cages in the dark, with no medical care, not enough food or water and are treated like baby making machines with no life.
Missouri is considered the leading puppy mill state in the country. Over time, puppy mills have spread to other states, the highest concentration is in the Midwest, but there are also high concentrations in other areas, including Pennsylvania, Ohio and upstate New York.
Dog farming is a large part of the economy for many Amish communities. Lancaster, Pennsylvania, Holmes County, Ohio, and Shipshewana, Indiana are home to thousands of breeding dogs that will spend their lives in puppy mills. This might surprise you given the reputation of the Amish, and is a side of the Amish community of which most people are not aware of and would never knowingly support.
What is a dog auction?
Not many people have heard of a dog auction. Dog auctions are common in the puppy mill industry, and are particularly common in Amish communities. A dog auction is the same as a livestock auction; it is simply limited to selling dogs as well as housing and breeding equipment.
The dogs sold most of them suffer from chronic untreated painful conditions such as ear infections, rotten teeth, urinary tract infections, sores on their feet, mastitis, and more.
These dogs have never felt the warmth or love from a human in their lives and need a lot of patience once adopted to adjust to their new lives.
One of the important reasons for speaking out about Puppy Mills is because of the lives the poor dogs live, but also to stop pet stores for selling puppies which most of the time come from Puppy Mills.
So we are speaking against Puppy Mills or any breeder as there are so many dogs waiting in shelters to be adopted and being euthanized because of lack of space. Enough is enough.
To all our readers please do not shop but adopt, save a life as they save ours, and a dog does not have to be pure bred to be perfect, mutts rock and in my house mutts are what I rescue.
Be safe and please spread the word
With a woof and love from Layla