Woof hello friends,

How are you all ? Over here in San Francisco the weather is weird, one minute hot and then cold and then rain, I wish it would make its mind up cos I want to go to the dog park a bit.

Last weekend I must say I was happy as I had Mom all to myself, it was pawsome and we even went on an adventure.

On Saturday, we were going to go to the Tulip Festival but it was raining and stayed at home, cuddled a lot and Mom spoiled me with lots of treats.

But on Sunday she surprised me and we took the tram which I love riding and went to meet up with Jenna Emmons and Louis, the Frenchie. That was so exciting as I have never been in a hotel where there is a dog park on the 5th floor.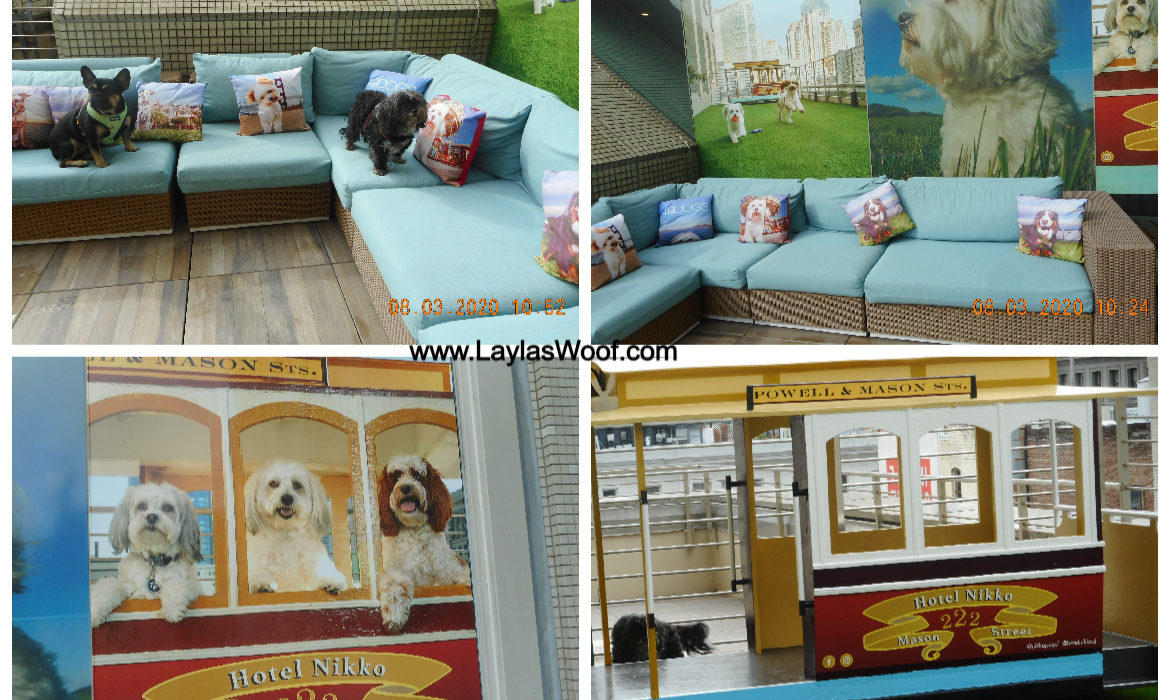 Louis is such a cute and handsome dog, and he was so nice with me, I love dogs like him although BOL I can be a bit of a snob. Mom and Jenna spoke about blogging while we sniffed around the park and wandered around. It was really weird in a way to be up in the sky but in a dog park, a new experience for me so thank you Jenna for inviting us to do so.
I told Mom I want to do that again and what Jenna is doing with Louis I also want to do one day, her reply was maybe, grrrrr am not happy with that reply.

Otherwise nothing exciting is happening in the Layla Neighborhood, Georgie has gone away for 10 days so he is not visiting, Gidget of course is here and I am really getting to like her more and more, she is very playful but respectful and we have learned proper how to share Mom with no arguments and cuddle together.

Unfortunately because of this lousy virus going around, we are lying low although BOL am making sure Mom takes me for extra long walks when we do go out. Mom explained that we should rather be safe than sorry so am going to trust her judgement on that.

Everybody please be safe, eat healthy and as Mom says don't forget to wash your hands. Can you believe she now wipes my paws when we come inside BOL. (I do that because of her allergies).
Friday March the 13th is National K9 Veterans Day, to honor commemorate the service and sacrifices of American military and working dogs throughout history. Thank you to all the four legged heroes.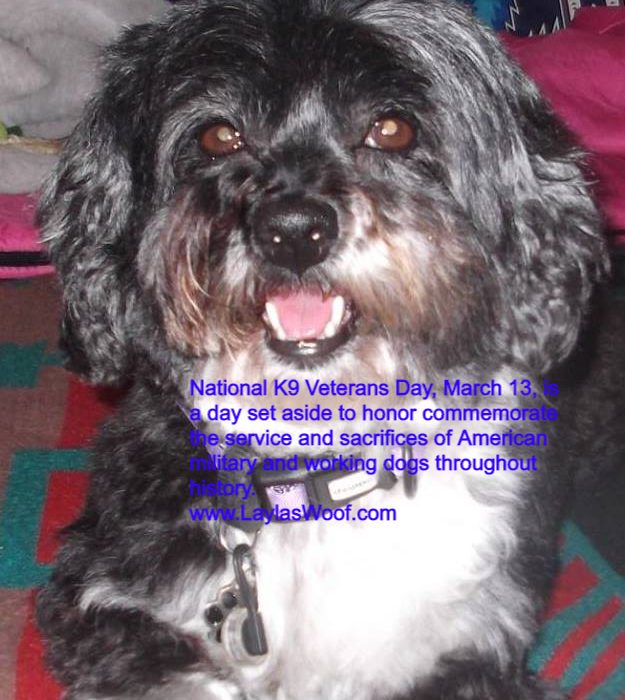 Am off now for my morning shnooze, I need need my beauty sleep,
With a woof and love Layla