Morning Fur Friends,

Friday has arrived and that means the fun time and adventures start as there is no rain this weekend, phew.

Thursday, April 11th is National Pet Day which is a very important day. It was started by Colleen Paige to celebrate the joy and love that pets bring into our lives and most important highlight the awareness of the many different animals sitting in shelters all over the world waiting to find forever homes. 

This is the reason I will only rescue and not pay a breeder as there are so many in cages begging to go home people should rescue. There are also pure breeds in shelters and rescues for those that want one, opening your door to a rescue of any kind of animal is saving a life, actually not one but two, yours and the rescue.

No animal should have to suffer, especially at the hand of humans and that is why Adopt don't Shop is so important.

To celebrate this day we can do the following :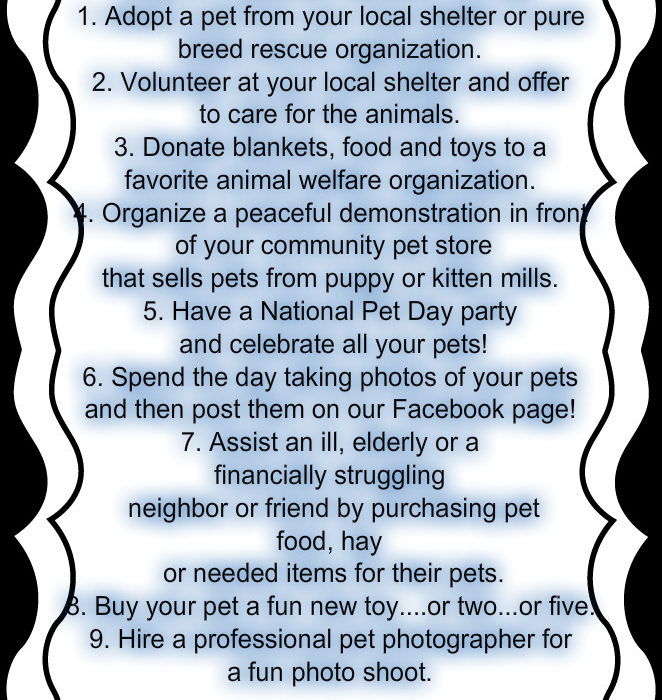 Layla is a rescue and like many I am sure when we read the list above we say well we do some of those every day so why not instead do the others also.

I for example try to give back wherever possible, helping rescues is on the top of my list and love sharing with them.

One of the most important things in my life as a Mom to a rescue is to make sure that on weekends I do very little work and spend quality time with Layla giving her extra special love and attention as she is so patient during the week when I am at work.
Last weekend I decided as the weather was so good to take advantage of it and on Sunday we did two dog parks. One in the morning which I call my little paradise as it is a tiny park not far from me, really quiet but has lots of smells, so what can be better than walking there with a cup of coffee, a happy trotting little dog, bag of treats of course, finding a bench and just chilling. Best way to start the day.
At lunchtime we went with a friend to the Chihuahua Meet Up, Layla always is the honorary Chi LOL. I love where they hold it, Stern Grove is amazing and at the end of the park is a fantastic lake, so it is soothing, relaxing and just great being out in nature. Layla loves the smells, wandering around and of course getting some treats, but for me it is quality time, no electronics, just the two of us.

So now that summer is arriving, I am researching new places of adventure for the two of us on weekends, plus of course all the dog events that will be happening in the city, so that our weekends will be filled with fun.

Did you do something special for your pet on National Pet Day ?

Layla is now going to have her morning nap after a long walk and I am catching up on my work,

Have a wonderful weekend everyone With a woof and Love from
Layla