Woof everyone,
It is woofing Wednesday and we have been busy which is making me exhausted.
So what is happening in the Layla Neighborhood ? Lots !!!!
On Saturday I went with Mom to volunteer as usual which was lots of fun as I got lots of hugs and pets from everyone, it is the best way to start a day with love. In the afternoon we relaxed and then went for a long walk.
Did you know ! I walk Mom now and she needs a new leash BOL. It goes like this, Mom wants a shortish walk in the afternoons and I decide I want a long one so off we go and when she wants to turn around I just sit down and refuse to move or pull her along in the direction I want. Guess who wins ?? Me of course while Mom is muttering under her breath HA – slaves should not mutter.
On Sunday we had an adventure which was fun although I did not like the drums. Mom and I went on the MUNI (tram) to the Native Contemporary Arts Festival at the Yerba Buena Gardens – it was a beautiful day, cool but sunny. We found a shady spot to sit under a tree and listen to the poetry. music and then dance.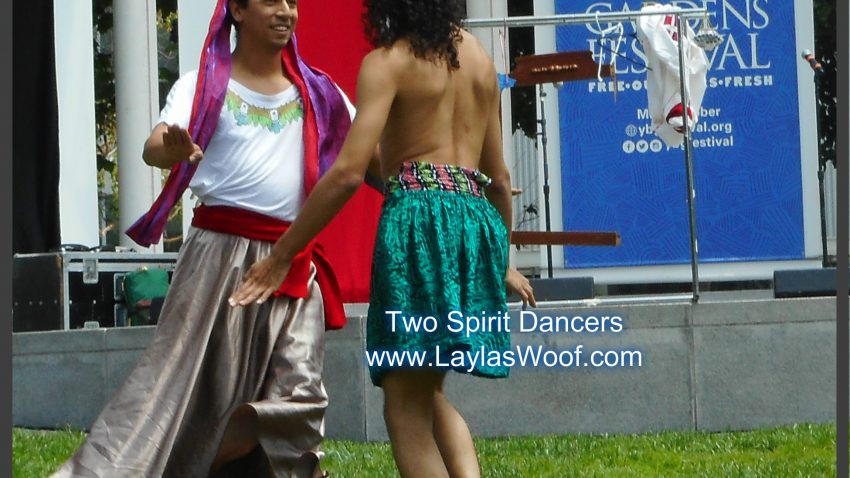 Well when the drums started, I became antsy, did not like it and Mom laid the backpack on the ground open so I could lie in it, but when she saw that I was not relaxing and shhhhh spoiling her relaxing time as she wanted to listen, Mom being the good Mom that she is decided to bring me home.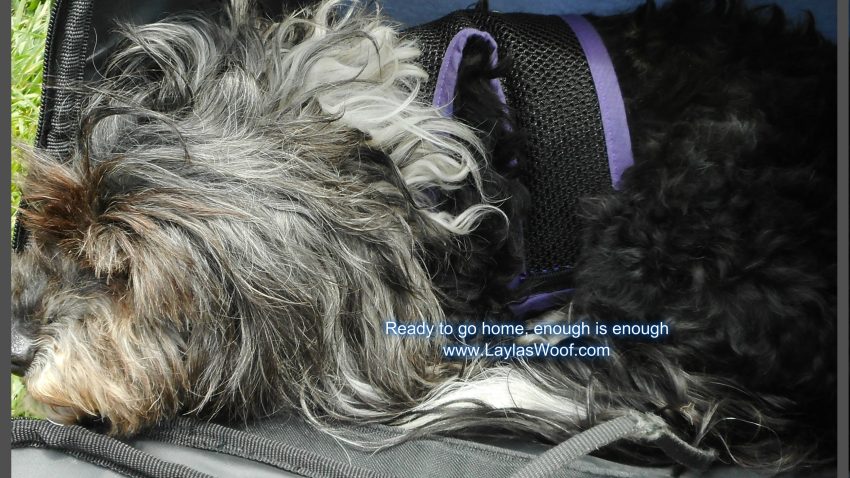 Phew was I happy to sit in the backpack and get out of there. It was a learning lesson for both of us as Mom says she knows now that when it comes to different events she will have to plan things in a different way.
So this week, excluding walks and park time we are lying low and spending quality time at home. Mom is still teaching but otherwise it is just us.
This coming Saturday is Pride Weekend in San Francisco, loads of chaos so we are not planning any adventure on Sunday but to relax in the dog park. Though on Saturday I become mini Dyke and we are going to the Dyke March. I will allow Mom to do that one plus I have the backpack to sit comfortably and watch it all. Photos of course will be in next weeks blog.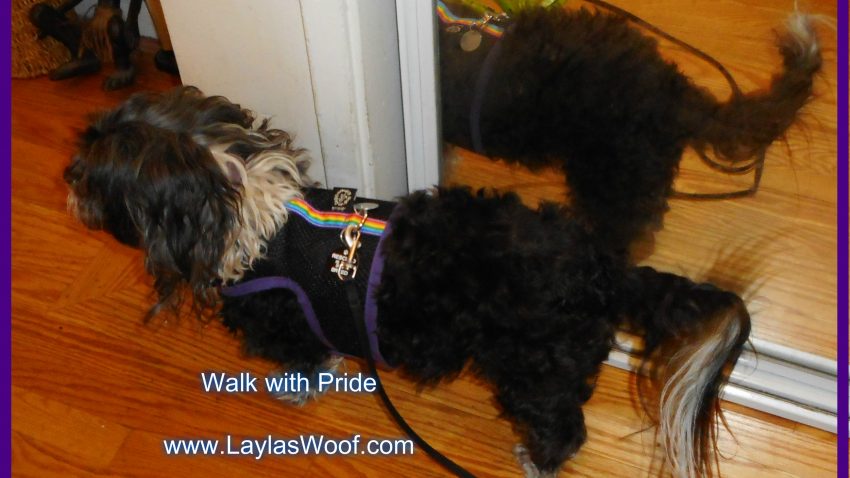 On this note now that I have finished sharing what is happening in our neighborhood, I am off for my afternoon siesta which is needed.
Happy Pride to those celebrating
With a Woof and Love
Layla