Woof hello every pawdy, as you know it is Pride Month all over the world which is a month of celebrating so much that I decided to share with you here the history so you understand why it is so important.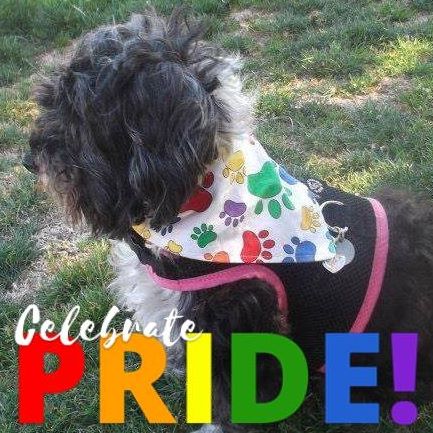 Lesbian, Gay, Bisexual, Transgender and Queer (LGBTQ) Pride Month is celebrated each year in June to honor the 1969 Stonewall Uprising in Manhattan. The Stonewall Uprising was a tipping point for the Gay Liberation Movement in the United States. It opened the doors to our freedom and being able to live the way we want to live, love who we want to love, and as they say it enabled so many to come out of the closet and be openly freely gay.
This year the theme in San Francisco  is #LookingBackandMovingForward and Washington DC was #peace,love, revolution
The Rainbow flag was created by an artist Gilbert Baker and the colors have a meaning.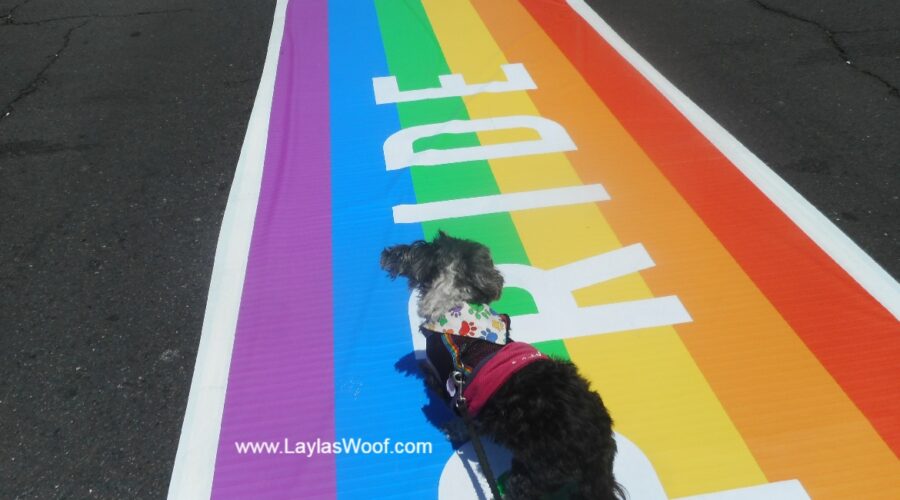 Red : Vitality
Orange : Healing
Yellow : Sunlight
Green : Nature
Indigo : Harmony
Violet : Spirit
The Pink or Black Triangle: During the Holocaust the Gays were forced to wear Pink Triangles so that they could be singled out and persecuted, the Black Triangle was for the Lesbians who went through the same and that is why we wear those Triangles to remember the Gays and Lesbians who were killed during the Holocaust. In San Francisco every June they put a large Pink Triangle on Twin Peaks for the month to remember those that were killed.  It is the same reason the Jews were forced to wear a yellow Star of David, so that they would stand out and be alienated by the Third Reich and unfortunately met their fate in gas chambers.
So now you know why it is important to celebrate in June, as we are fortunate but there are so many countries to this day that torture the LGBTQ community and they have so many living in fear for the lives to this day:
Muslim Majority : Afghanistan, Algeria, Bangladesh, Brunei, Chad, Comoros, Egypt, Eritrea, Ethiopia, Gambia, Indonesia, Iran, Iraq, Kuwait, Lebanon, Libya, Malaysia, Maldives, Mauritania, Morocco, Oman, Pakistan, Palestine/Gaza, Qatar, Saudi Arabia, Senegal, Somalia, South Sudan, Sudan, Syria, United Arab Emirates, Tunisia, Turkmenistan, Uzbekistan
Christian majority : Antigua & Barbuda, Burundi, Cameroon, Cook Islands, Russia, Dominican, Grenada, Guinea, Guyana, Jamaica, Kenya, Kirbati, Liberia, Malawi, Namibia, Papua & New Guinea, Samoa, Solomon Islands, Sierra Leone, St Kitts & Nevis, St Lucia, St Vincent & the Grenadines, Tanzania, Swaziland, Togo, Tonga, Tuvalu, Uganda, Zimbabwe
Other : Mauritius, Myanmar, Nigeria, Singapore, Sri Lanka
I am aware that there are those in the USA that are against the LGBTQ community, label us and so much more but if we keep quiet, do not talk out against the hatred it will carry on and the sad part is that many LGBTQ more youth will commit suicide because of the pressure from those haters.
The reason I am talking out today is we speak out against animal abuse, protecting our pets, Domestic Violence, this is just as important as there are so many in the world that do not have a voice to speak out from fear so we need to be their voices.
So let us celebrate and this week Layla and I went to two Pride Parties, one had a Drag Queen who looked like Cher and sang her songs which was fantastic, a lot of laughter and fun and the other was a Pride Party at a Diving School, a pool party although Madam did not swim, it was just so much fun to be out and about celebrating this month with others. She is exhausted today from her busy week, I am too from pushing the stroller but it was worth it so this weekend we are taking it easy although she has a doggy birthday party to go to in one of the parks, photos will be shared next week.

Happy Pride to those that celebrate and have a wonderful safe weekend
With a woof and love from Layla