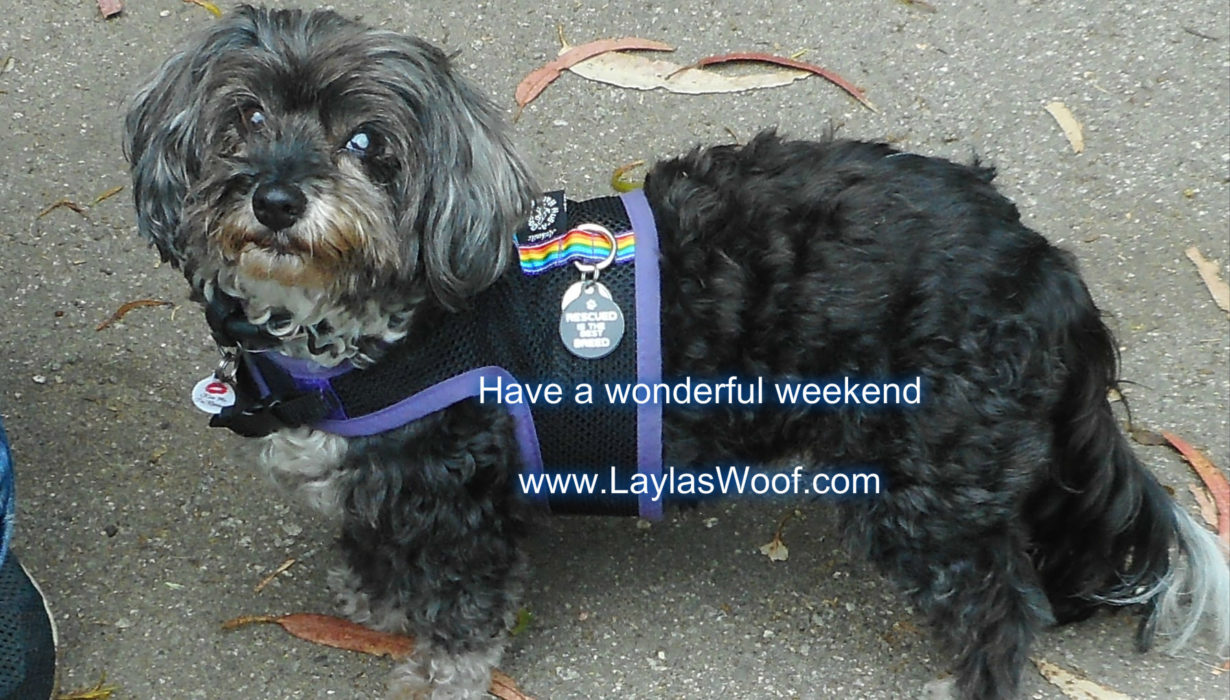 Morning All,

Friday has arrived and with it my schedule as always is filling up. Yes I am a very busy little dog but it keeps Mom and I young and healthy although BOL she has to carry me a lot. It is also Pride Month so am now wearing my rainbow harness with Pride.

Last weekend, Saturday we took it easy as Mom was really tired. We just went for long walks and otherwise slept and did nothing. Mom decided she needed it as it had been a long week for her.
On Sunday to make up for it, we went to the Chihuahua Meet Up where I become an honorary Chihuahua plus it is always held in an amazing park Stern Grove.
Below Facebook link is the video of her running into the park all happy, Miss Wiggly butt with her feather tail flying.
https://www.facebook.com/LaylasWoof/videos/428537084594189/


This is one place that Mom calls heaven, as it is so lush, green with lots of place to roam around plus the lake at the end of it makes it really peaceful. There were lots of dogs at the meetup which was fun as I got to smell a lot of them. I like this meet up as it is all small dogs so I feel safe.

Mom was really proud of me as when we went for our long walk I even went off the path exploring which is something I do not do often but it was so much fun, so many smells to check out and so much space to roam around. Mom of course kept an eye on me as Coyotes have been seen in this park but in the middle of the day they are normally sleeping.

It was such a pawsome day, we relaxed, ran around, and perfect weather just helped it all. I told Mom I cannot wait for the next one which is in July.
When we got home we were both tired so I was nice to Mom and let her sleep, she does deserve it sometimes.

The rest of the week has been slow as Mom has now finished work for the summer but last night we went to a big fundraising event for the Shanti/PAWS Organization and we will share it with you in our next week's blog.

This weekend I know we are going to the Tri-Pawed Meet Up which is always held in our dog park so I will get to meet some new dogs which is exciting but other than that we have nothing else planned.

So as you can see I am a very busy dog with a full schedule and I love it as after being stuck indoors during the winter it is so much fun to be out and about again.

Have a wonderful weekend everyone and please share what your plans are.

With a woof and love From Layla, the social butterfly