TGIF !!!!
Hi everyone and oy vey today is Friday the 13th. This day brings back so many memories of my childhood with my grandmother who was so superstitious that it drove all of us crazy. I must admit that thanks to her I wear a Hamsa all the time around my neck and has a blue stone in to protect me against evil. Layla has one on her harness too. (In Jewish culture, the Hamsa hand represents protection from evil and a reminder to pray. Five is a significant number in Judaism and is considered the number of protection)
Some of my memories of my grandmother was her spitting on her hand and then touching her head, always avoiding walking under ladders and the funniest of all was when my sister crawled through a window to open a door so my grandmother made her crawl back through the window or she would not grow. We were not allowed to put keys on the table, we had to set our shoes in a certain way and the list can go on and on and I am giggling here while sharing.
So Friday the 13th brings back so many memories for me and what a wonderful weird life it was with all the superstitions.
Now lets go over to this past week, what a week !!!! Climate change is really happening and the storms in San Francisco is proof of it, the rain has been relentless, the hail, thunder and lightening WOW it has been hard to take Layla for long walks as we swim not walk plus Layla has this new thing of standing and staring into space so we stand for like 10 minutes every time getting drenched and that is how we were caught in the hail storm also. Thank goodness for the stroller and plastic cover I picked her up and put her in immediately and we ran home LOL.  Two wet old ladies, me and Layla.
Today thank goodness it did not rain so we went for a long long walk about 5 times, I am exhausted and Layla is sleeping at the moment. I hope she sleeps through the night which has become a new thing of her waking me up at about 2 to go potty and then we come inside, she moans for a treat of course and then I sit on the floor with her till she settles down and goes back to sleep which can take at least a half hour if not more. I am slowly becoming a zombie from lack of sleep and Layla is full of energy as she sleeps during the day also. It is a hard life for her LOL.
But however I share all this, watching her age is heartbreaking, and I would not change any of her quirks however irritating they can be sometimes, she is my fur kid and needs the best of best love and attention.
Her snuffle doodle bug was the best thing I ever got for her I think, she loves it and lately when she does not want to eat her food because of the supplements, I put the food in the snuffle doodle and she sniffs it and eats her food that way, it has become a game so am washing it all the time and cleaning the floor also. Never a dull moment here.
So no adventures this week, only swimming in the rain and trying to stay dry, have a wonderful weekend everyone, stay warm and dry and please be safe,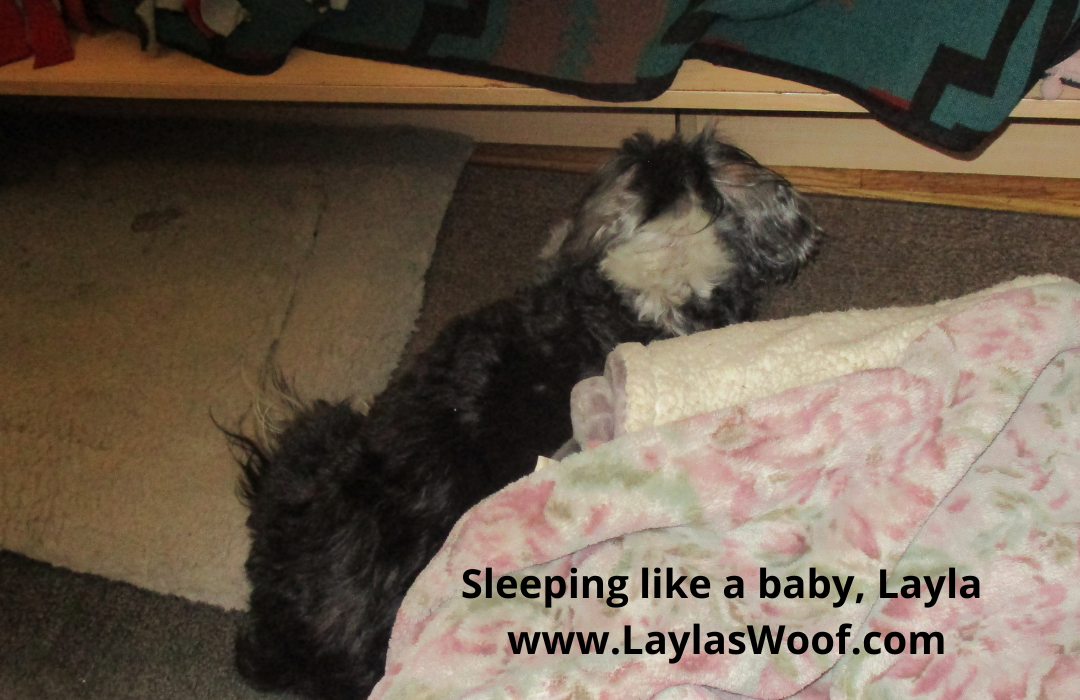 With a woof and love from
Layla