Smile, its Friday the 13th everyone be safe. My great granny was very superstitious and would be spitting on her hand and touching her head BOL.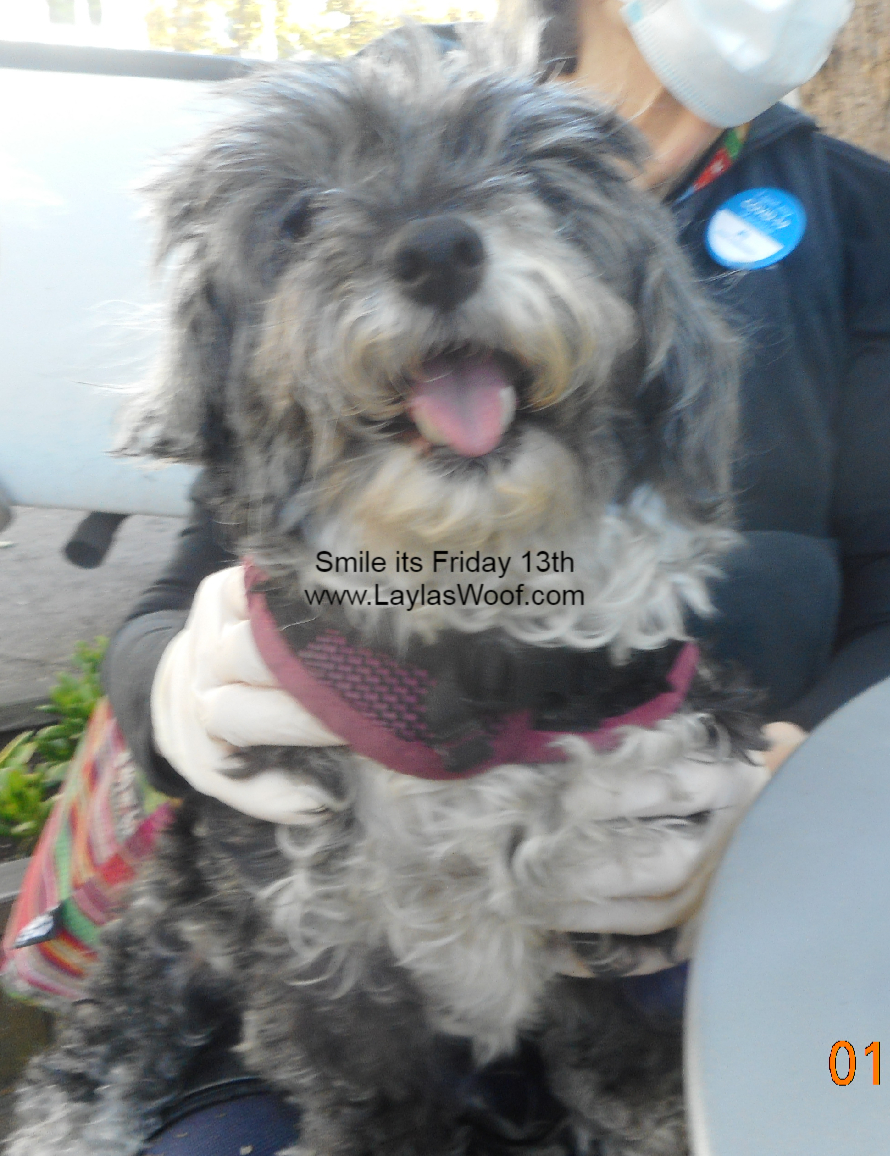 The weekend has arrived and we had a great fun weekend last week till Madam hurt herself but thank goodness she is fine and back to being the sassy Madam.
Last Saturday we went to Stern Grove Dog park which for me is heaven, it is a beautiful park near the city with lots of trees and a lake at one end. For me sitting next to water is the best way to balance myself and watching the ducks and turtles was just awesome. There are Coyote warnings all over the park but there were a lot of dogs and people so felt very safe, plus I kept Madam on leash most of the time. Rather be safe than sorry.
Walking back to the entrance of the park, Madam started slowing down and then hopping with her back left leg in the air. She has always hopped with that leg up but it was more than usual so I was concerned.
As I have lousy eyes and hardly can see I immediately called my neighbors so that I would have two sets of eyes checking her foot for foxtails or something else. They could not find anything so I emailed my vet and he told me to monitor her and give her gaberpentin. I did that and she was thank goodness eating, drinking, no moaning or yelping so kept an eye on her. When it did not clear up by Wednesday I called her groomer who is not far from me and asked her if she could cut her nails and check her paw for me.
Bingo !!!!!!!!!! She has a burr in the fur of her paw, Tomo, my groomer immediately removed it, and Madam is back to Piss and Vinegar. I am so relieved that we did not have to do a vet visit as I did not want to stress her out too much plus sit outside the vet waiting for our turn.
I am also trying a new Dr Harvey's flavor with her, the Allergy Turkey flavor and she loves it, gobbling down her food like a little pig LOL. Madam with age has become a little pig and me being the Jewish Mom am loving it, the healthier she eats at her age the better.
It has all the veggies she needs plus turmeric and other supplements and so she is eating a really balanced diet.
You can find it on their website :
Plus Layla is reminding everyone there is a coupon : Layla10 to get 10% off.
So on this note I am going to eat dinner while watching her slurp her dinner down,
Have a wonderful safe weekend
Layla the Boss