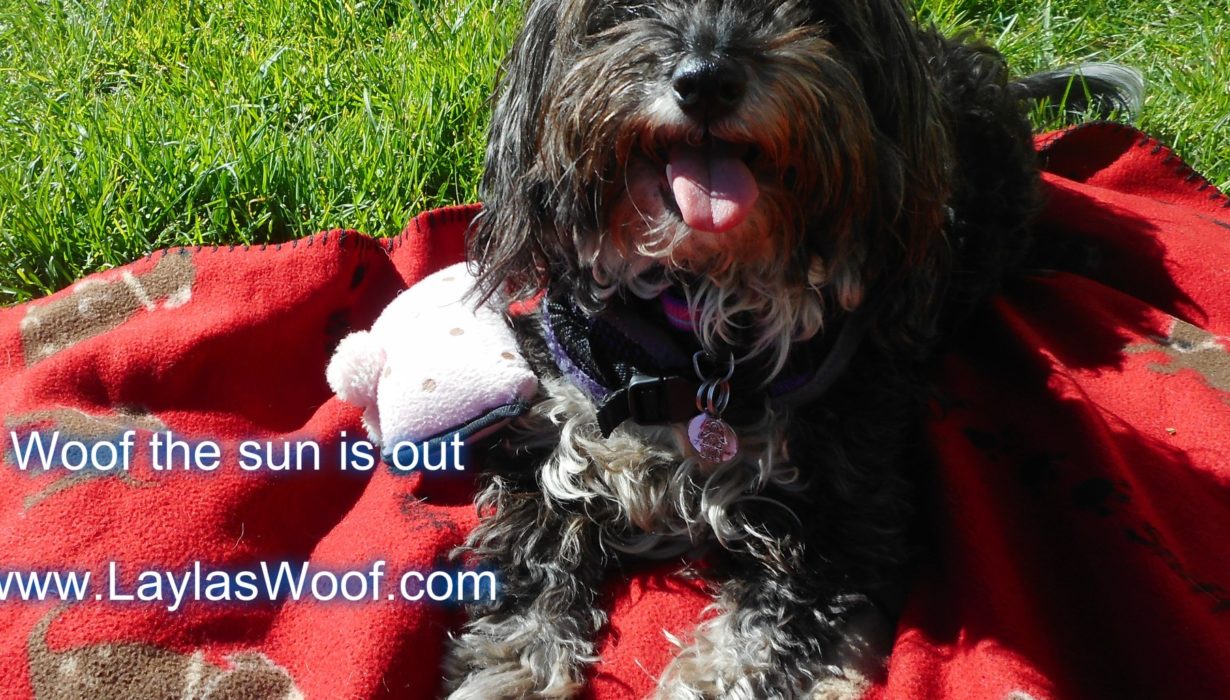 TGIF !!!!! Woof Happy Friday all my fur friends and I hope you are all looking forward to the weekend the way we are.
We have had a busy week but also celebrating that the sun is shining and with the Daylight Savings we are now able to get to the park when I finish work. WOW what a concept, to feel the warm sun on your face after all the cold rainy weather. Not sure how long it will last but we are enjoying it immensely.
On Tuesday I took Layla for her annual check up. Growing old means being more careful, keeping double eyes on all and in a nutshell making sure she is getting all the correct nutrients in her food which I as a Jewish Mother is always worried about. They had done blood work on her a month ago as she had lost 1.5 lbs and I was really concerned BUT the happy news is she is back to her normal 15 lbs and nothing to worry about, she got a clean bill of health. I am so relieved over this as I know now I must be doing something right.

I spoke to the vet about her not wanting to go out after 7 in the evening and the vet told me not to worry, because of her one eye going blind she might be afraid of the dark so just to let her do what she wants and if she needs to go out she will tell me, which is what she normally does.

Now as you all know I cook for Layla, and one of my biggest worries is that her food is not properly balanced so I am always doing research, checking and have come across the most amazing supplements which even my vet said she can see the difference in her since I have been giving them. Plus they are made in the USA which is the most important of all.
What are they :
01. Raw Paws Hip and Joint Support for Dogs and Cats : Organic hip and joint supplement is beneficial for all pet life stages from puppies and kittens up to seniors! This joint supplement is a healthy blend of green lipped mussel powder, ginger, turmeric curcumin, pumpkin and ceylon cinnamon. Giving this daily supplement offers natural arthritis relief without the nasty side effects from pet arthritis medicine!
02. Raw Paws Mineral Rich Organic Sea Kelp Daily Supplement for Dogs and Cats : This excellent natural source of iodine supports glandular functioning such as thyroid health and metabolism. With an improved metabolism, the overall health of your pets will improve by an increase in energy and decrease in inflammation and infection. Sea Kelp promotes oral health by reducing buildup of plaque and tartar for healthy teeth. Being the #1 source of natural trace minerals, sea kelp helps to strengthen the immune system, promotes a healthy skin and coat, reduces itching and fortifies the blood for an overall healthy, vibrant life! Sea Kelp also has 60 different vitamins, minerals, and trace elements as well as 21 amino acids. Made with zero artificial ingredients.

And I think the most important for our pampered pets are the TREATS which Layla is addicted to now. They sent me :
01. Chicken Jerky for dogs only 02. Freeze Dried Green Tripe which is for both Dogs and Cats 03. Freeze Dried Duck which is for both Dogs and Cats .
Layla is at this moment in Treat Heaven, every time she hears a bag she thinks its treats.

A Give Away (see the Rafflecopter Widget below) of a basket with Chicken Breast Jerky (8 oz), Freeze Dried Duck Treats (4 oz), and Freeze Dried Beef Green Tripe Treats (4oz).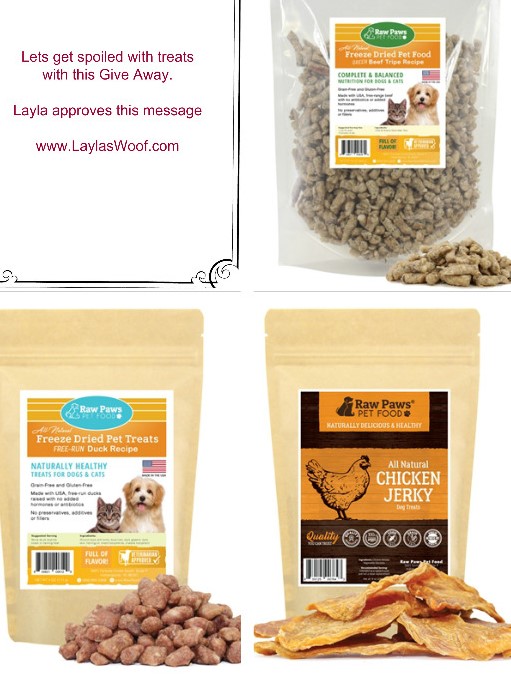 For those that are interested in shopping a coupon :
All you have to do is go their website and type in : LAYLA15 and get 15% off your order.There is no expiration date on this coupon but it is a one time use only.
To read more about them and shop this is their website link : https://www.rawpawspetfood.com/Default.asp?sscid=31k3_bjjd8
Raw Paws Pet Food has sponsored me for this review plus give away which is only open for the USA.
Woof to all our fur friends that are entering, as you can see I love sharing with my cat friends also, so good luck. I am off now to beg for some more treats from Mom.
Have a wonderful weekend, Layla
The Rafflecopter Link for the Giveaway :
http://www.rafflecopter.com/rafl/display/7d1ec19c47/?