Woof my friends, we took a break from blogging cos Mom decided she needed a break and umm I loved the idea as it means Mom and Me time together in the park and having fun, so today am going to share with you what we have been up to and of course our Give Away this week.
On the 22nd of April we went to DogFest, an annual fund raiser for one of the Elementary Schools in our area, it was lots of fun with of course lots of treats to taste at the different booths, I filled up my tummy big time while Mom worked hard pushing my stroller BOL. It was noisy, lots of fun but we came home exhausted from it all and Mom complained her back was sore, poor Mom. We hope they made a lot of money from the event. I am sharing a photo of me with the sisters of Perpetual Indulgence who do amazing charity work and always volunteering at events.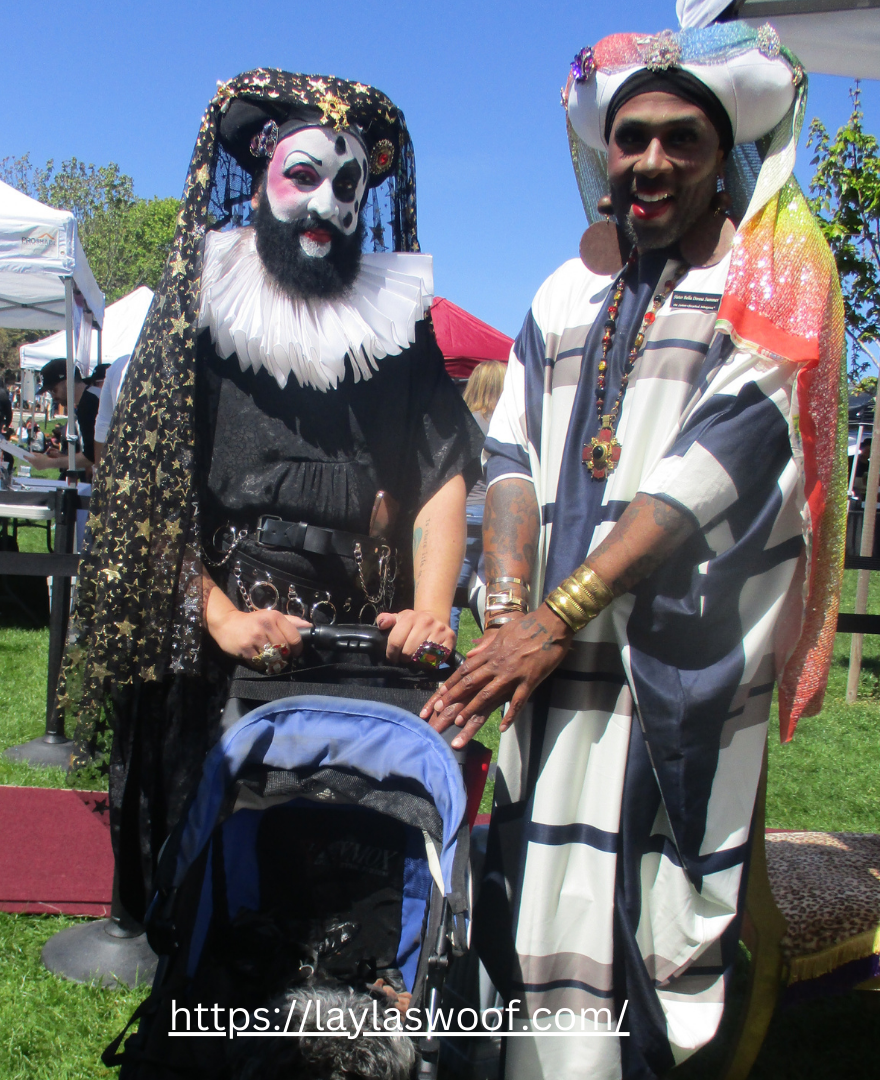 Last weekend we spent most of our time in the park as the weather was perfect, warm and sunny and of course I kept Mom on her toes when I was wandering around the park as she did not want me to go far but I have so much fun making her run after me on purpose, although she is trying to relax an enjoy time with her friend and her coffee, BOL.
Woof Woof Woof, guess what with May we are doing a give away for yummy freeze dried raw food and treats. I personally am endorsing them as they are sooooo good and the best is when they are in my snuffle ball but most important is they are for both dogs and cats.
The flavors in the give away are Turkey, Chicken, Beef and Duck Feet which one lucky dog will win and enjoy and the best of all they are for cats and dogs excluding the duck feet.
The Turkey Ingredients:
Ground Turkey with Bone, Turkey Heart, Turkey Liver, Herring Oil, Mixed Tocopherols (preservative), Vitamin E supplement, Zinc amino acid complex, Iron amino acid complex, Copper amino acid complex, Manganese amino acid complex.
The Beef Ingredients:
Beef, Beef Bone, Beef Lung, Beef Liver, Beef Tripe, Beef Heart, Beef Fat, Beef Kidney, Beef Blood, Herring Oil, Mixed Tocopherols (preservative), D-Alpha Tocopherol.
The Chicken Ingredients:
Ground Chicken with Bone, Chicken Heart, Chicken Liver, Herring Oil, Mixed Tocopherols (preservative), D-Alpha Tocopherol.
The freeze-dried Duck Feet:
For us dogs only sowwy.
To enter please go to the link below, Good luck
https://www.rafflecopter.com/rafl/display/baa88aa63/?
You can read all about Raw Paws Pet Food, a family owned business on the below link : https://www.rawpawspetfood.com/
You have a coupon to shop on their website: Laylaswoof15 for a 15% Discount
We were sponsored for this give away and please note it is open for 18 + years old, USA only excluding Hawaii and Alaska and sorry but Canada also.
Oh !!!! Before I forget I have opened a store selling pawsome products, you can find the page of our store on our blog so happy shopping.
Have a wonderful week everyone,
With a woof and love from
Layla