Good Morning friends from rainy San Francisco,
Mom has come to the conclusion that the next month is all about holidays, we just finished Thanksgiving and Hanukkah will be starting this weekend.
What is Hanukkah – it is the festival of lights when a miracle happened and the oil that the Maccabees found to last for one night lasted eight nights so we celebrate this by lighting a candle every night and eat lots of oily foods. Very good for the diet and cholesterol LOL.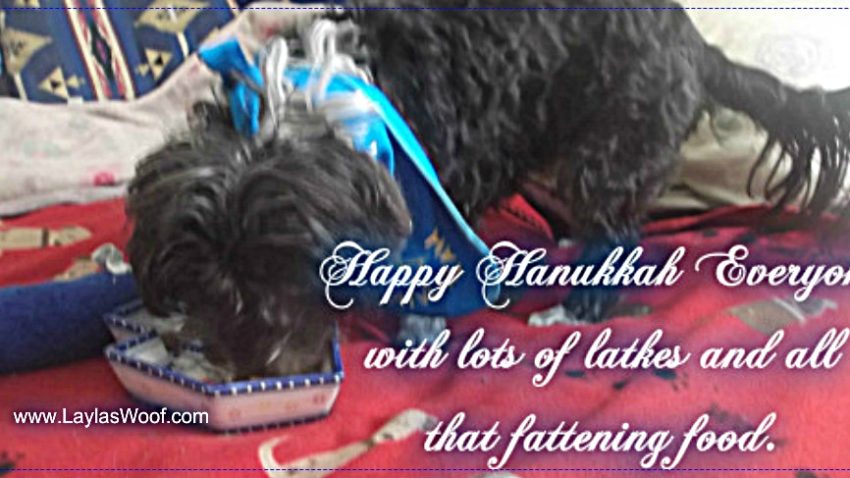 What are these foods – Latkes which are like fried hash browns and are yumm, Donuts or what we call them Sufganiyot – in Israel they make them with the jelly in the middle and are delicious. I remember when living in Tel Aviv there was a bakery that made the best I have ever eaten and you had to order in advance to get them as if you went randomly there was a line around the corner waiting. Hmm those were the days.
Chocolate Coins which we give to the kids and are called Hanukkah Geld.
We also play a game with a dreidel – it is a four sided top with Hebrew Letters on and you win when it falls on one of the letters.
Another tradition for Hanukkah is we exchange gifts and Layla was lucky to get a wonderful gift from Purebites of different treats. They are her favorite as they are freeze dried treats made with only 1 – 3 ingredients and I call them Layla's crack LOL, the flavors she got are chicken breasts lamb liver and beef liver. PLUS I think for her the cherry on the cake was their Chicken & Sweet Potato Jerky, she is now set for the holidays with healthy treats made in the USA and I am so grateful for Purebites sending them to us as their treats is one of the few companies I really trust.
For our cat friends we want to share so you are aware that they make awesome cat treats also. To read more about them you can go to their website :
Mom says I cannot eat most of the Hanukkah foods but she will be making me my own doggy latkes and we are sharing the recipe here plus sharing with you the recipe for the Hooman ones for those that want to try.
Doggy Latkes
Ingredients and Method
One sweet potato grated
One egg
Flour to bind it all together
Mix all in a bowl, spoon on to a baking sheet which is covered with parchment paper, bake on 350 Deg till brown on top, flip over and carry on baking till ready (golden brown) Cool and serve it to them with sour cream or cottage cheese.
This recipe makes about 5 or 6 depending on the size of the sweet potato.
Human Latkes recipe
Ingredients and Method
5 Russet Potatoes peeled (you can do unpeeled also)
2 Eggs
Breadcrumbs or Matza meal to bind it all together
NOW to make life easier and tastier instead of crying while grating onions I use a packet of Lipton Onion Soup mix.
Squeeze all the water out of the potatoes, add the rest of the ingredients and mix together.
Heat up oil in a frying pan, I use Canola oil, drop a table spoon of the mixture into the hot oil, flattening them a bit, fry till golden brown on each side, drain on a paper towel. Serve hot with either sour cream or apple sauce. Bon Appetit.
Please make sure you keep your pets safe during Hanukkah.
Now I am going to hibernate as it is cold and raining, to all those that celebrate Hanukkah – Hanukkah Sameach, have a wonderful holiday and do not over eat.
With a woof and love from
Layla