TGIF!! The weekend has arrived and never mind Mom I am exhausted and need a rest.
Mom has been running around all week, nonstop, like an energizer bunny and she needs to put her feet up but hey I love keeping her busy.
On Wednesday Mom took me to the Eye Vet to have my eyes checked up.  They have found that I have now an ulcer on my right eye so have doubled my eye drops and hopefully all will be good. We have another appointment in 6 months' time unless something happens before then.
As you all know I have a Jewish Mom that drives me nuts trying to keep me healthy and happy so she decided that I need a new dog food to add to my homecooked food so it would be very balanced and healthy. I sometimes worry that she will make me chicken soup and matza balls BOL.
So, as we love the Dr Harvey's Foods Mom got me their new one, The Raw Vibrance as she got excited when she saw it has milk thistle, green lipped mussels and so much more and it takes the worry off her shoulders with me not getting a balanced diet with all the right supplements. The plus with eating Dr Harvey's food is it Holistic, Chemical Free and made with organic ingredients. What could be healthier than that.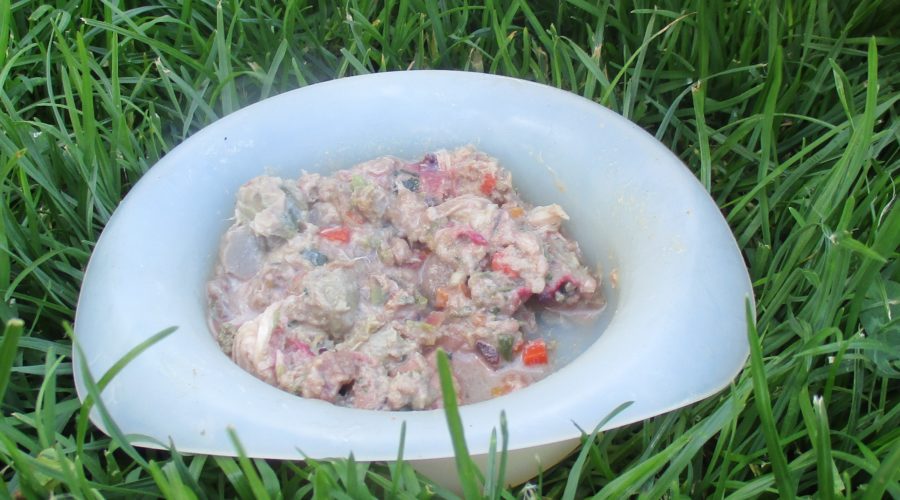 The ingredients in this food are Broccoli, Green Beans, Squash, Celery, Cabbage, Carrots, Crushed Eggshell, Spinach, Beets, Raw Goat's Milk Powder, Apples, Blueberries, Bone Meal, Sesame Seeds, Chia Seeds, Shiitake Mushrooms, Green Lipped Mussel Powder, Ginger, Kelp, Parsley, Eggshell Memb 
I love this food and it is pink from the beets which is my favorite color so am gulping it down as quickly as possible when it is put in my bowl.  Mom also takes it to the park for me so I can have a picnic.
Mom has also started making me treats with the food which she mixes with my homemade food and bakes it, then cuts it and puts it in my snuffle ball and it is yummy. I am a very lucky old girl here.
So, because we love this food, and want to help everyone keep their babies healthy and happy, we have decided to do a giveaway for a bag of Raw Vibrance which one lucky winner will win.
We were sponsored by Dr. Harvey's with a bag of this food. The giveaway is for the USA only and you must be over 18 to enter.
Below is the Rafflecopter link to enter:
http://www.rafflecopter.com/rafl/display/baa88aa62/?
And of course, if you want to check out Dr Harvey's website this is the link – Your code for a discount is: Layla10. The great thing is you can order samples of his food to try on your dog before you buy a big bag.
I solemnly swear with my paws that your dog will be a happy healthy furkid.
Good luck everypawdy, with a woof and love from
Layla