Good morning Everyone,
With the beginning of July comes 4th of July which might be a holiday for fun BUT for us pets is it a scary time also. So today we going to discuss this matter and would love input.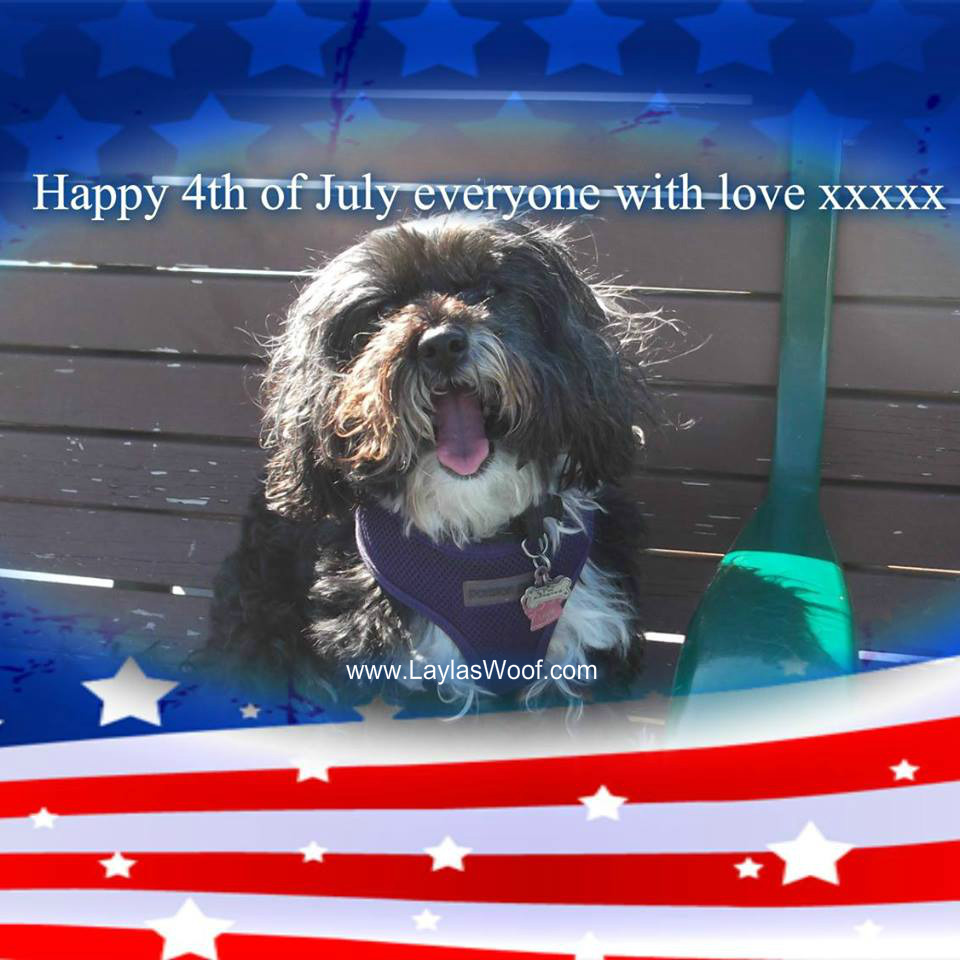 I have been reading different articles about many things that are connected with 4th of July and the one that stands out is the amount of animals that get lost, shelters are already overflowing and will be really full after this weekend.
It is so sad that before the weekend even starts, people are dumping pets at Shelters with a million and one reason why they cannot keep them but the bottom line is it is the 4th of July weekend and they are going away. These people do not even think of the damage they are doing, some lucky pets will be fortunate to get out of there alive, others won't. I cannot understand why and how people can do that, they are inconsiderate, not compassionate and should not be allowed to have pets again.  This weekend is one of the hardest for Rescue Organizations as they will be over flowing with wonderful warm fuzzy pets looking for new home because of the selfishness of their past owners.
Having a pet is in my eyes having a kid, and many people would not dump their kids at a shelter just because the holiday is more tempting, actually I wonder how they are with their kids? If they act this way. Yes, I will judge them, as people that have no respect for other species, and only themselves are people I do not want in my life or surroundings.
So let us pray that those unfortunate pets find new happy homes to live out the rest of their lives, like Layla.
I also hate fireworks, they are a waste of money that can be used for so much more, rescue organizations are desperate for money and so are many other charities. I also hate them because of the fear they cause to all pets plus the wild animals outside, why should they be traumatized.
How to keep us safe on 4th of July :
Be prepared in the event that your pet does escape – make sure your pet is wearing a collar with an updated tag, microchip is updated and BEST of all just keep your pet inside in a safe place where it cannot escape.
How I keep Layla safe – I take her in her stroller in the evening for a long walk and then we settle in for the night. I keep the Jazz music on the TV, she sleeps wherever she is comfortable,  I put a t-shirt on her which keeps her snuggly and helps her relax Since she has started Sundowners Syndrome she gets her Relax Supplement from Real Mushrooms which works wonders and normally asleep by 8 pm.  If she needs to go out late at night and she tells me, I will take her out, I do not force her. Her safety and wellbeing is my top priority.
https://shop.realmushrooms.com/?ref=488
One of the most important things we also need to remind everyone is :
Have a wonderful weekend, be safe, enjoy your two legged and four legged family and please remember to keep us safe.
With a Woof
Layla