Good Morning All,
Me the social butterfly has been really busy as always but it is keeping Mom and I young which is what i keep telling her.

I went to the vet last week as my eyes were really red and Mom was concerned, I hate that place. Anyway my favorite vet was there and she checked them and told Mom I have really bad allergies and dry eyes, so she gave Mom some ointment to put in my eyes and I think it is working cos I am less itchy.

On Saturday we went to the Shih Tzu Meetup which is one of my favorite events as there are lots of dogs my size and they are all fluffy. It was loads of fun, the weather was fantastic and also being in a different park always makes things more interesting.


In the evening we met up with one of my favorite Aunts who was here in the city for 2 days. She is a very special lady as she runs a Fospice for pets by rescuing the seniors that have been dumped in shelters so that they can live the rest of their lives with love. You can read about her Sanctuary on her Facebook page.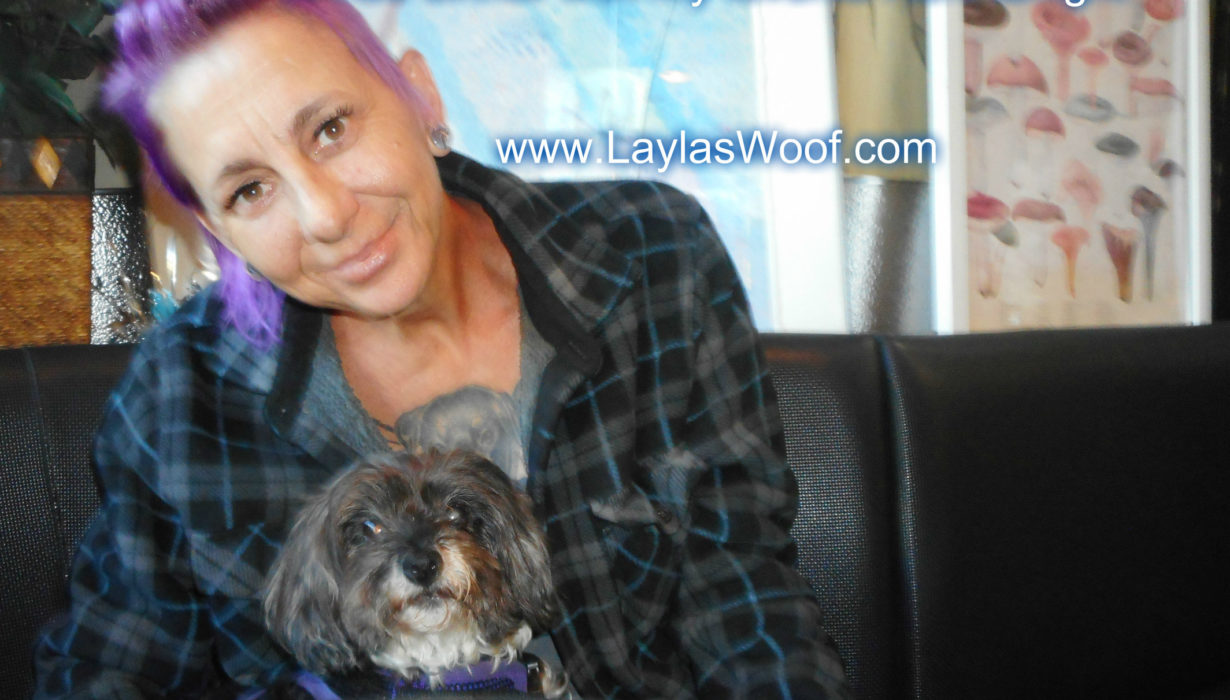 Sunday we just relaxed, Mom says she had no energy for anything so I took control and made sure we did lots of long walks. I am not interested in her being tired as I do not have a computer and need to check my pmail.
NOW as you all know 4th of July is around the corner, the nightmare for many pets because of the fireworks. It is so important that we, the parents keep our pets safe in the house and this is what I have found works for Layla.

I put a bed in the shower, water and some toys, making it comfortable for her if she needs it. I also keep music on, give her last walk at about 7 before the chaos starts and most important of all is I give her Hemp Oil. I am a firm believer of the Hemp Oil as it keeps her calm, relaxed and less worrying for me.

The Hemp oil I use is from a company called Restorative Botanicals and swear by it. What I love also is that they have products for us also which makes a difference and when I am stressed out I drink their delicious coffee which keeps me calm. A must for us coffee drinkers.

This weekend we are going to Pride in San Francisco which is exciting although I hate the noise of the motor bikes so Mom will be giving me the Hemp Oil to stay calm, actually with age I am getting scared of many noises so this product is really easing my life in a big way.
You can read all about them on their website :
https://www.restorativebotanicals.com/?rfsn=2263342.782237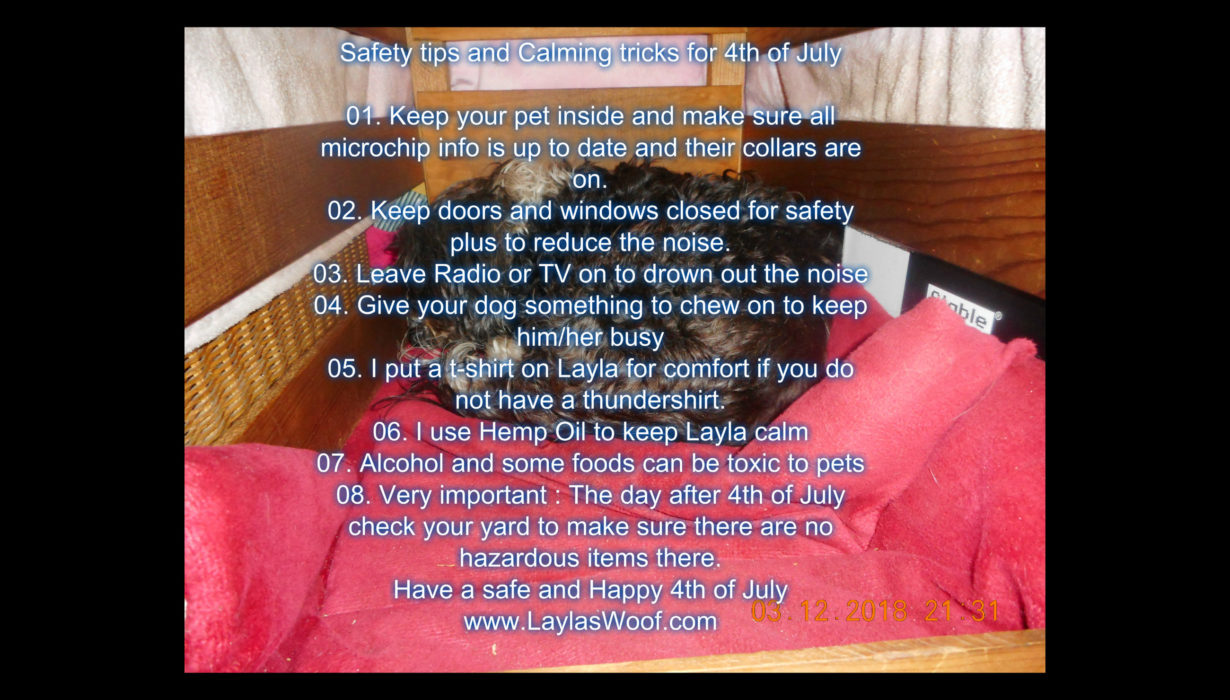 GIVEAWAY TIME
So we decided to leave the BEST NEWS for last and that is Mom surprised me this week with some wonderful new treats, chicken jerky yummm and raw turkey necks to chew on especially on 4th of July which will keep me busy as I am inside more than normal plus what could be better than chewing away on something good.

What is the give away ???????

Freeze Dried Wild Caught Minnows. They are a single ingredient treat for both cats and dogs. This single source treat is perfect for pets on a limited ingredient diet, who have food allergies or stomach sensitivities. Minnows are easily digestible containing no grain, gluten, artificial flavors, additives, or preservatives. Sourced and packaged in the USA.
I, Layla personally puts my paw of approval on them, they are delicious and I strongly suggest you enter to win as they are a must for the treat jar. I am also excited as once again I am sharing for both cats and dogs so everyone can enjoy.
You can find them on the link below and remember if you do shop there you have a discount of 15% with the coupon Layla15.
https://www.rawpawspetfood.com/Default.asp?sscid=51k3_szat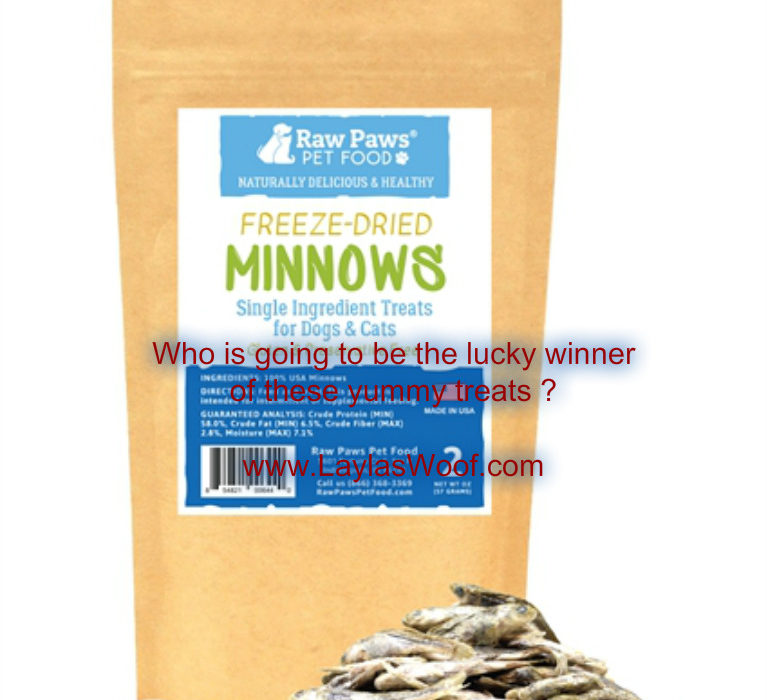 We have been sponsored for this give away by the company. It is not open to Canadian residents only the USA.
All you have to do is enter on the link below :
http://www.rafflecopter.com/rafl/display/7d1ec19c49/?

Before I log off here for the week we must NOT forget that 5th of July is the busiest day in shelters as they are saving and keeping all animals that have run away from the fireworks safe, so to all my fur friends everywhere, both domestic and wild, please be safe, try to stay calm and remember the stupid humans are to blame for us being scared on 4th of July.

Happy Pride to those that are celebrating this week and Happy Safe 4th of July Everyone.

With a woof and love from Layla